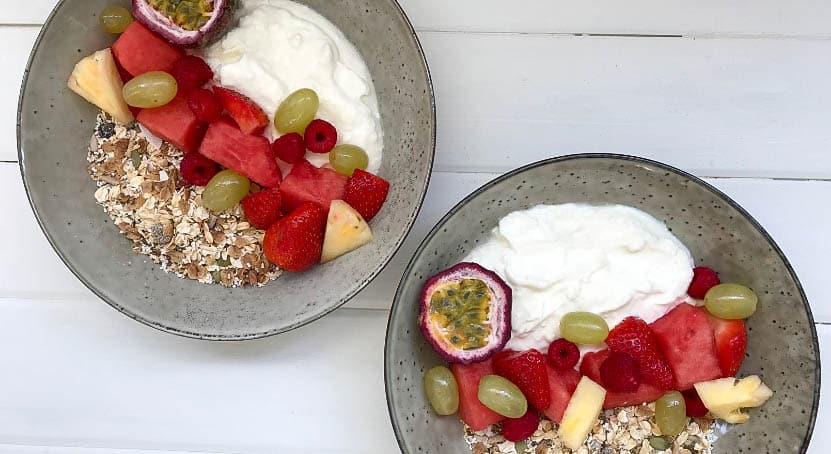 If you follow us on Instagram you'll know that we are huge fans of breakfast and follow a simple formula to ensure we get the balance right in the morning: good quality carbohydrates + protein + fruit/veggies. We find that starting the day off the right way with a healthy balanced breakfast can set you up on the right path and help you to feel energised.
We know that most people are short on time in the morning, so here are 7 quick and easy breakfast ideas that you might like to try.

This super easy bircher muesli recipe will take your usual morning oats to the next level. You can prep a batch and keep leftovers in the fridge for a couple of days. Mix up the fruit, nuts and spices to suit your preferences! Click here for recipe.
Do you sometimes struggle to eat 5 serves of veggies during the day? This green breakfast smoothie will help to boost your veggie intake as it contains spinach leaves and avocado. Smoothies are a convenient option when you're short on time in the morning as you can whip it up the night before and then grab on the go in the morning. Click here for recipe.
If you prefer more of a savoury breakfast, then these delicious homemade baked beans will be perfect for you. What we love about this option is that it incorporates cannellinni beans, which are a type of legume, meaning it's loaded with fibre and other gut loving goodness. We recommend preparing a batch of this recipe and keeping it in the fridge, ready to heat them up just before you want to eat them in the morning. Click here for recipe.
4. Boiled Eggs on Toast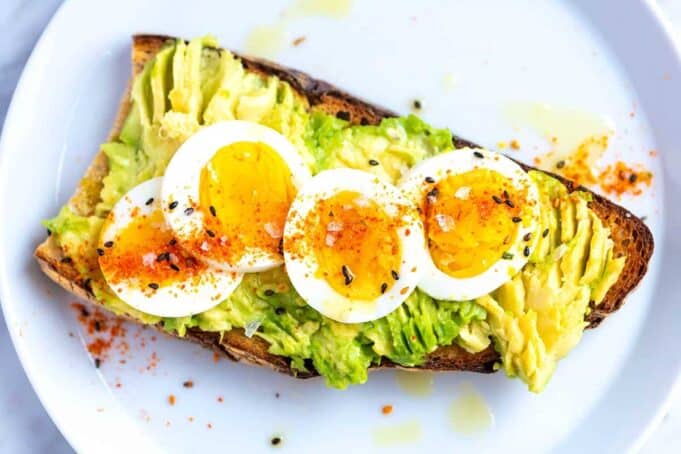 If you're a fan of eggs on toast, then save yourself some time by boiling a batch of eggs and keeping them in an airtight container for breakfasts at the beginning of the week. They'll last in the fridge for around 5 days and pair very well with a slice or two of sourdough and some avocado. Check out this link for tips on how to boil the perfect eggs.
A great idea if you eat breakfast on the go or train in the morning. Prepare your jar the night before and pack it safely with you to eat on the go! Click here for recipe.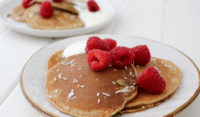 Are you put off by pancakes mid week because you think they'll take too long to prep? You'll have prepped and cooked these ones within 10 minutes and feeling pretty chuffed with yourself too!! Click here for recipe.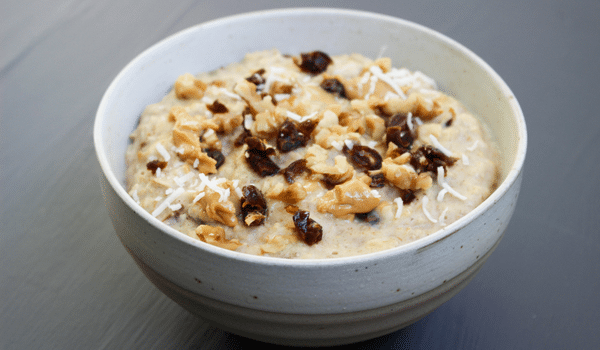 If sometimes you just need something warm in the morning to get you out of bed then you have to try this wholesome peanut butter and date porridge. Packed with protein from the peanut butter, milk and oats, we guarantee you'll feel satisfied all morning. Click here for recipe.
—
If you are look for more simple, delicious meal ideas to add to your repertoire, check out our Flexitarian Cookbook.