Peanut Butter & Date Porridge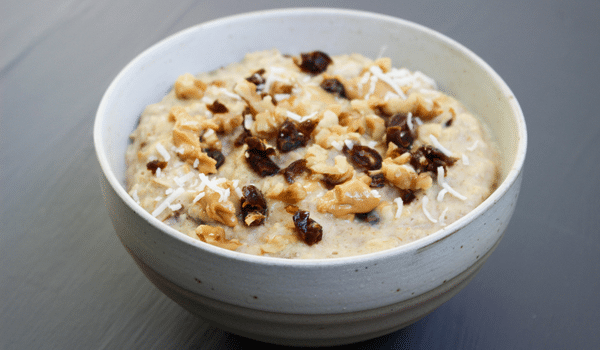 Serves: 2 | Cook time: 5 minutes
Ingredients
1 cup Sunsol rolled oats
2 1/4 cups milk (use preferred milk)
6 dates, pitted, chopped

1 tablespoon natural nut butter (e.g. peanut, almond etc)

1 teaspoon cinnamon

1/2 teaspoon vanilla essence
1 teaspoon chia seeds
1 tablespoon desiccated coconut
To serve: walnuts, roughly chopped, desiccated coconut, nut butter
Methods
Combine all ingredients in a small saucepan. Stir over low heat for 4 to 5 minutes, until the oats are cooked through and the mixture is thick and creamy. Feel free to add additional milk or water to achieve desired consistency. (Alternatively, you can cook the porridge in a bowl in a microwave).
To serve, top the porridge with chopped walnuts, sprinkle of coconut and drizzle of nut butter.
Notes
To add a delicious tang, try adding some orange zest throughout the mixture.
Feel free to top with fresh fruit or some Greek yoghurt.
For more delicious breakfast recipes, click here.