Nothing quite compares to the hunger of a child after school. You know how it goes – the kids arrive home, walk through the door and fix themselves a bowl of breakfast cereal or proceed to graze all afternoon then have no appetite once dinner rolls around. Sound familiar? Or perhaps you're stuck in a snack rut and looking for some tasty inspiration to add to your snack roster. With kids heading back to school, we've compiled this guide to after school snacks which require minimal or no preparation but will keep your kiddos satisfied until dinner. 
Sound too good to be true?
The trick is protein and/or fibre, it's as simple as that. Both protein and fibre keep us feeling fuller for longer, which minimises the urge to graze. Pretty nifty, huh? Not only that, protein is super important for growth and development, while fibre keeps our bowels regular and feeds our good gut bugs.
Snacks are a great way to get adequate amounts of these and other nutrients into little tummies and keep up energy levels.
Like an after school snack sommelier, we've paired sources of protein and fibre to give you 5 super snacks for the Monday to Friday school week. All you have to do is stock the fridge and pantry!
Monday: Yoghurt + Fruit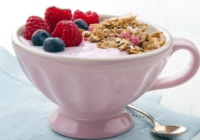 The yoghurt delivers the protein in this partnership, while the fruit brings the fibre. Flavoured yoghurts tend to be high in added sugars so we recommend a plain Greek yoghurt. If your child is used to flavoured yoghurts, try stirring some fresh berries through the yoghurt for a DIY flavoured yoghurt. Any fruit works here – banana, stone fruit, melon – so why not try something new each week to keep things exciting and add variety to your little one's diet.
Tuesday: Hummus + Veggie Sticks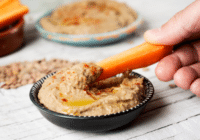 Hummus is typically made using chickpeas which are a source of both protein and fibre – the holy grail of after school snacks, if you will. Paired with veggie sticks – think carrot, cucumber, capsicum, celery (all the c's!) – this snack is given an added fibre boost. We have an Easy Peasy Hummus Recipe which works a treat with veggie sticks, or pick up a premade hummus with the least sodium per 100 g you can find.
Wednesday: Milk + Nuts 
Nothing beats a cool glass of milk on a hot afternoon. Or a warm mug on a winter's afternoon! As well as protein, milk is a rich source of calcium for growing strong, healthy bones. Nuts, on the other hand, are a bit like chickpeas in that they contain both protein and fibre – win win! Fun fact: peanuts are actually a type of legume, just like chickpeas. There are a plethora of nuts available to taste test; we recommend the unsalted varieties.
Thursday: Tuna + Crackers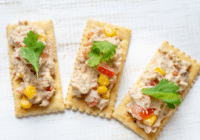 A small tin of tuna, or salmon, is a rich source of essential fatty acids to optimise brain functioning, as well as high quality protein. We recommend choosing fish canned in springwater as a healthier option, as opposed to brine or oil. A small handful of wholegrain crackers are the perfect accompaniment – no cutlery needed! The higher the wholegrain content the better, as this is our source of fibre; take a squiz at the ingredients list and choose a pack with wholegrains listed first.  
Friday: Cheese + Crackers 
What better way to close out the week than with some cheese and biccies? Parents can get in on this one too, perhaps with a glass of red wine while getting dinner underway. Another source of both protein and calcium, you could go for a hard cheese, like cheddar, or even a fresh cheese, like ricotta. Again, we recommend choosing some biccies high in wholegrains for their fibre content – delish and nutrish! 
Mix and Match
Can't get enough of these snack suggestions? Try mixing and matching sources of protein and fibre to create a variety of your own flavour sensations!
Step 1: Pick a source of protein
Step 2: Pick a source of fibre

Milk

Yoghurt

Cheese

Hummus

Baked beans

Roasted chickpeas

Edamame 

Nuts/seeds

Nut/seed butter

Boiled egg

Tinned tuna or salmon

Fruit

Veggie sticks

Cherry tomatoes

Nuts/seeds

Nut/seed butter

Wholegrain crackers

Wholegrain toast

Popcorn

Edamame

Baked beans

Roasted chickpeas
Got time on your hands? 
If you love to prep meals in advance, have a little time before the kids get home from school or want to get the kids involved in food prep, check out our kid-friendly recipe collection for some after school snack inspo.
And that's a wrap on our guide to after school snacks; just remember the golden rule: protein + fibre = contented little tummies. Happy snacking!
—
Notes:
Check out this healthy packaged snacks blog for the school lunchbox.
Check out our Flexitarian Cookbook.
Follow us on Instagram!
This article was co-authored by dietitians from The Biting Truth and student dietitian, Alexandra Van Winden who is currently completing her dietetic internship with The Biting Truth.