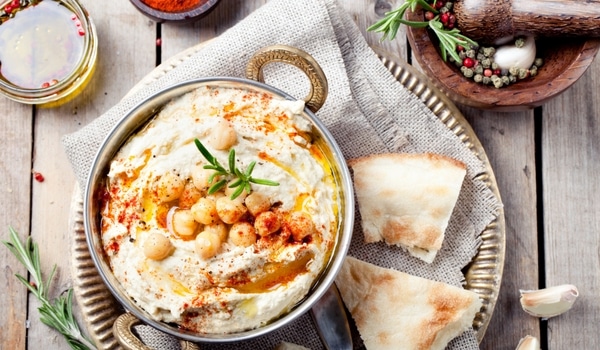 Serves: 10-15 | Prep time: 15 mins
Ingredients
1 x 400g can chickpeas, drained and rinsed
1 clove garlic
1/2 x juice of a lemon
2 tablespoons tahini
Pinch of paprika
1 tablespoon Extra virgin olive oil
Salt + pepper to taste
Method
1.  Add the garlic cloves to a food processor and pulse until finely minced. Then add in chickpeas and pulse until the chickpeas are finely chopped.
2. Add a good squeeze of lemon juice, olive oil and tahini and process until the hummus is creamy and smooth.
3. Have a taste and add more lemon or a splash of water to achieve your desired consistency. Then add salt and pepper to taste and a pinch of paprika. Continue to blend until mixed.
4. To serve, sprinkle with paprika and a drizzle of olive oil. Serve it with veggie sticks, pita bread or add to a salad!
—
For more healthy and delicious recipes, click here!