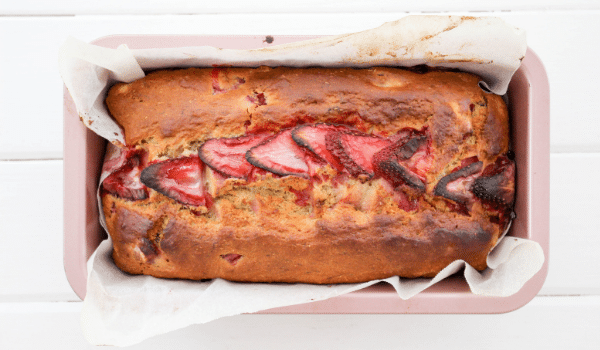 Serves 6-8 | Prep time: 10 mins | Cook time: 50-60 mins
Ingredients
1 ½ cups wholemeal self raising flour

2 tsp baking soda

½  tbsp ground cinnamon

2 large eggs, whisked

2 medium bananas, mashed

¼ cup honey

1/3 cup extra virgin olive oil

1 tsp vanilla extract

¼ cup plain Greek yoghurt

1 ½ cups strawberries, finely diced (fresh or frozen)
Method
Preheat the oven to 180 degrees Celsius and line loaf tin with baking paper

Combine flour, baking soda and cinnamon in a large bowl.

In a separate bowl, combine eggs, bananas, honey, oil, vanilla extract and yoghurt and mix to combine.

Pour the wet ingredients into the large bowl with the flour and gently combine.

Fold through the diced strawberries.

Pour mixture into loaf tin and bake in the oven for 50-60 minutes or until golden on top and cooked through.

Allow the loaf to cool for 10 minutes before removing from loaf tin. 
Notes
For more treat recipes, click here.
Check out our cookbook here.
Want to learn more about kids nutrition, click here.