Decadent Chocolate Avocado Mousse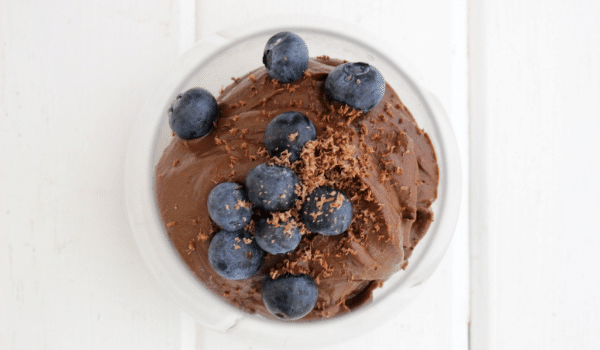 Serves: 2-4 | Prep time: 10 minutes | Cook time (leave in fridge): 60 minutes
Ingredients
2 ripe avocadoes, pitted

50g raw cacao powder

¼ cup milk

3 tbsp honey
Pinch of salt
1 tsp vanilla extract
Fresh berries
Dark chocolate, to decorate
Methods
1.  Add the avocados into a food processor and blend until smooth.
2. Add cacao powder, milk, honey, salt, vanilla and blend again until completely combined. Taste the mixture and adjust accordingly. 
3. Divide mousse between bowls or cups and transfer to the fridge for an hour before serving.
4. To serve, top with fresh berries and grated dark chocolate (optional).
Notes
This Chocolate Avocado Mousse recipe is gluten-free.
For more delicious treats, click here.
Check out our Youtube cooking videos here.
For more super delicious and healthy recipes, then check out our Flexitarian Cookbook & Eating Guide. 
To learn more about kids nutrition, click here.