Wholesome Tuna & Freekah Power Bowl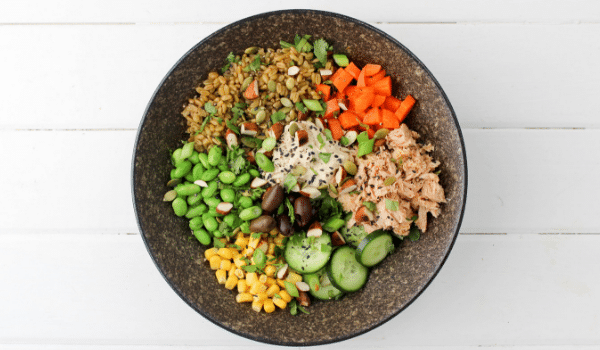 Serves: 1 | Prep time: 10 minutes | Cook time: 30 minutes
Ingredients
1/3 cup uncooked Freekah (or pearl barley)

1 cup spinach leaves

¼

 cup corn kernels, canned, rinsed

½

 small cucumber, sliced

½

 cup edamame beans, shelled

½ small carrot, diced

1 x 95g can Sirena chilli tuna in oil
1 tbsp kalamata olives, pitted
1 tbsp hummus
1 tbsp roasted almonds, roughly chopped
1 spring onion, finely sliced
1 tsp pepita seeds
1-2 tbsp fresh coriander, roughly chopped
Extra virgin olive oil, to serve
Balsamic vinegar, to serve
Lemon, to serve
Methods
1. Cook Freekah (or Pearl Barley) according to packet instructions.
2. In a bowl, place spinach, corn, cucumber, edamame, carrot and tuna. 
3. Once freekah is cooked add this to the bowl and top with hummus, almonds, spring onion, pepita seeds and coriander.
4. To serve, drizzle with extra virgin olive oil, balsamic vinegar and a squeeze of lemon.
We used the Sirena chilli tuna in this recipe however it would work well with any of the varieties from their range. You can check them out here.
For more delicious salad recipes, click here.