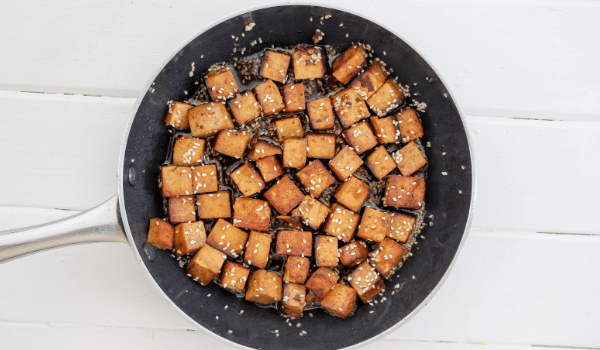 Serves: 4 | Prep time: 1 hour 20 mins | Cook time: 10 mins
Ingredients
450g extra firm tofu

4 tbsp

low sodium soy sauce

3 tbsp

rice vinegar

1 tbsp

pure maple syrup (or you could use honey)

1 tsp

sesame oil

2 garlic cloves, minced

1 tbsp fresh grated ginger
Method
To press out the tofu, lay tofu cubes in a baking tray lined with paper towels or a clean towel. Cover tofu with another layer of paper towels and put something heavy on top to press down (we used a hard cover book!). Leave for 15 minutes. This will help remove some of the moisture from the tofu.
Meanwhile, to make the marinade, combine all ingredients in a small bowl.
Remove paper towels from tofu cubes and pour marinade ingredients over the top. Mix tofu gently to ensure all sides are covered in marinade. Transfer to fridge to marinate for at least 1 hour (or longer if you have time) as this will help the tofu absorb the flavouring.
Head a large pan with a drizzle of olive oil and transfer marinated tofu to the pan. Do not discard the marinade sauce. Fry the tofu until golden brown on each side (try not to toss too frequently). Once tofu pieces have browned, pour the rest of the marinade over the top and stir to coat evenly. 
Remove tofu from heat and serve! This tofu goes really well in our tofu bowl, see recipe here.
—
Notes
Store leftover tofu in a container in the fridge for 3-4 days. You can enjoy cold or heat it up.
One of our favourite recipes utilising this marinated tofu is our Asian Tofu Bowl. 
Want to learn more about cooking with tofu and why it's so healthy? Read this article.