The Best 10 minute Chicken Laksa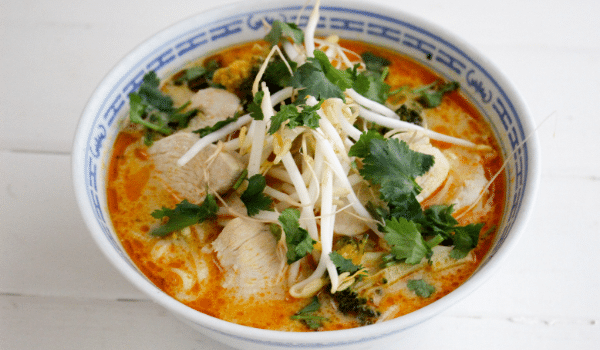 Serves: 4-6 | Prep time: 5 minutes | Cook time: 10 minutes
Ingredients
200g dried vermicelli noodles

1 tbsp extra virgin olive oil
3 tbsp laksa paste
400ml light coconut milk
1L chicken stock, salt reduced
1 cup water
2 kaffir lime leaves
1 tsp fish sauce
1 lime, juiced
500g chicken breast, diced
1 head broccoli, cut into florets
1 cup bean sprouts
¼ bunch coriander, chopped
Lime wedges, to serve
Methods
1.  Heat oil in a wok over medium heat and add laksa paste. Cook, stirring for 2 to 3 minutes or until fragrant.
2. Meanwhile, cook vermicelli noodles according to packet instructions. Drain and set aside.
3. Add coconut milk, stock, water, fish sauce, kaffir lime leaves and lime juice. Then add in the broccoli and chicken and bring the mixture to a boil. Simmer for 7 to 8 minutes or until the chicken is cooked through.
4. Divide vermicelli noodles between bowls. Ladle laksa over the noodles.
5. Top with bean sprouts, fresh coriander and a lime wedge. We recommend serving with a side salad to make sure you get enough veggies!
Notes
For a vegetarian option, substitute the chicken with tofu.
Feel free to add in any vegetables you have lying around. Mushrooms and beans work well! 
To watch our video on cooking this Chicken Laksa recipe, click here.
For more super delicious and healthy recipes, then check out our Flexitarian Challenge. When you sign up you'll receive our Flexitarian Cookbook with over 45 recipes, as well as a bunch of nutrition support!