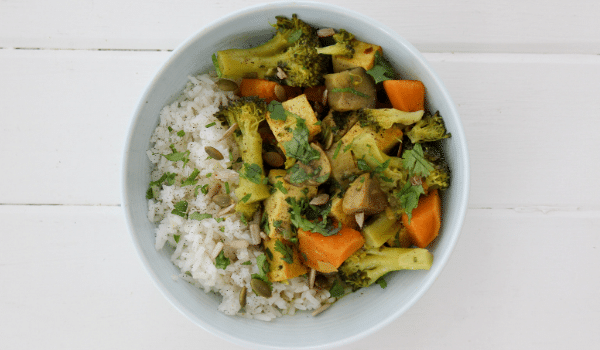 Ingredients
2 tbsp extra virgin olive oil
3 cloves garlic, crushed
2 shallots, finely sliced
1 tsp lemongrass paste
1cm piece fresh ginger, grated
400g firm tofu, cut into 2cm cubes
6 mushrooms, diced
1 tsp chilli flakes
2 tsp ground turmeric
2 tsp ground coriander
1 tsp ground cinnamon
1 tbsp soy sauce
1 small sweet potato, diced into 2cm chunks
400ml coconut milk
2 cups reduced salt vegetable stock
1 small head of broccoli, cut into florets
1/2 small eggplant, cut into 2cm chunks
Salt and pepper, to taste
1 lime wedges, cut into wedges
1/2 bunch coriander, chopped
Cooked basmati rice, to serve
Method
Heat a drizzle of olive oil in a large saucepan or pot over medium heat. Add the garlic, shallots, lemongrass paste and ginger and saute for 2-3 minutes, or until fragrant.
Add the tofu, mushrooms, chilli flakes, turmeric, coriander and cinnamon to the pot and saute for 3-5 minutes. Add the soy sauce.
Add the sweet potato, coconut milk, stock, broccoli and eggplant.
Bring the curry to a boil over a medium heat and then let simmer for 20-25 minutes.
Meanwhile, cook rice according to packet instructions.
Serve curry over a bed of rice with a wedge of lime and sprinkle with fresh coriander. Season with salt and pepper. 
—
Notes
Make a large batch of this recipe and keep it in the fridge for quick and easy dinners throughout the week! Alternatively you can freeze it and keep for months.
If you're looking for more vegetarian recipes, check out our Flexitarian Cookbook!