Teriyaki Tofu & Veggie Tray Bake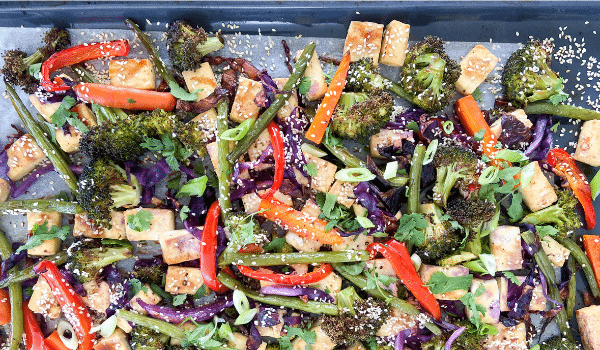 Serves: 4 | Prep time: 10 mins | Cook time: 40 mins
Ingredients
600g extra firm tofu, cut into 3cm pieces
1 head broccoli, cut into florets
½ capsicum, sliced
1 carrot, cut into sticks
1 handful green beans
3 cups purple cabbage, chopped
Extra virgin olive oil
1/4 bunch coriander, chopped, to season
Sesame seeds, to season
Brown rice, to serve
2 tbsp soy sauce
1 garlic clove
2cm piece ginger, finely grated
2 tbsp extra virgin olive oil
2 tbsp mirin (or you could use rice wine vinegar or vinegar)
1 tbsp water
1 tsp corn starch
Method
Preheat your oven to 180C and line a baking tray with baking paper.
Spread diced tofu out on the tray. Then add capsicum, carrot, green beans and cabbage. Spray vegetables with extra virgin olive oil, or drizzle with extra virgin olive oil. Transfer to oven for 30 minutes.
Meanwhile, combine teriyaki sauce ingredients together in a bowl.
Remove the tray from the oven and drizzle sauce over the vegetables and tofu and transfer back to the oven to cook for a further 10 minutes.
To serve, sprinkle with shallots, sesame seeds, coriander and season with salt and pepper. We recommend serving with some brown rice.
Notes
You can substitutes the vegetables for any vegetables you have lying around at home.
Tofu is a great source of plant based protein.
We recommend serving with a source of wholegrain carbohydrates such as brown rice, quinoa or freekah.
To learn more about kids nutrition, click here.