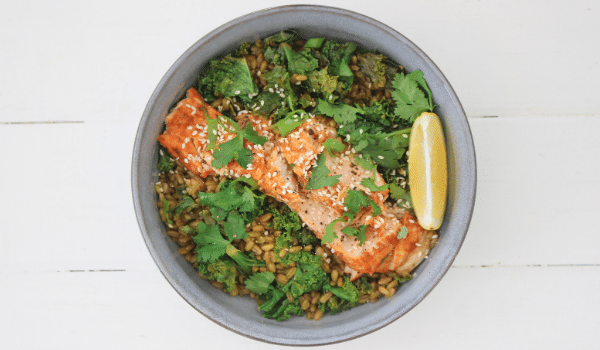 Serves: 2  | Cook: 30 mins
Ingredients
1 cup freekeh, uncooked

3 cups reduced salt vegetable stock

1 tbsp extra virgin olive oil

1 garlic clove, crushed

1 lemon, squeezed

1 red chilli, finely chopped

½ bunch Kale, leaves, roughly chopped

2 tbsp harissa paste

1 Spring onion, finely diced

¼ bunch coriander, roughly chopped

Salt and pepper, to season
Dressing
2 lemons, juiced

1 tsp ground cumin

2 tbsp extra virgin olive oil
Method
Preheat oven to 180C fan-forced. Line a baking tray with baking paper. 

To cook the freekah, place freekah and stock in a saucepan and bring to the boil. Reduce to a simmer and cover with a lid. Cook for approximately a further 30 minutes or until liquid is absorbed. Drain and set aside.

Meanwhile, place the salmon on a baking tray and brush generously with harissa paste. Grill for 10-12 minutes, or until the salmon is cooked through. 

Heat a drizzle of olive oil in a pan over medium heat. Add garlic, kale and chilli and a squeeze of lemon and a pinch of salt. Sautee for 5-6 minutes.

Combine freekeh and kale in a bowl. Once the salmon has finished cooking add to the bowl. Option to break into chunks.

Pour dressing over the top. Sprinkle with spring onion and coriander.

Season and toss well.
Notes:
You can mix up this Salmon & Kale recipe by incorporating any wholegrain (e.g. brown rice, couscous, barley).
Salmon is an excellent source of protein and omega 3, which are essential for a healthy brain. We recommend aiming to include oily fish in your diet twice a week for optimal nutrition.
For more delicious dinner recipes, click here.
To check out our Flexitarian Cookbook, click here.