Spiced Roast Pumpkin Soup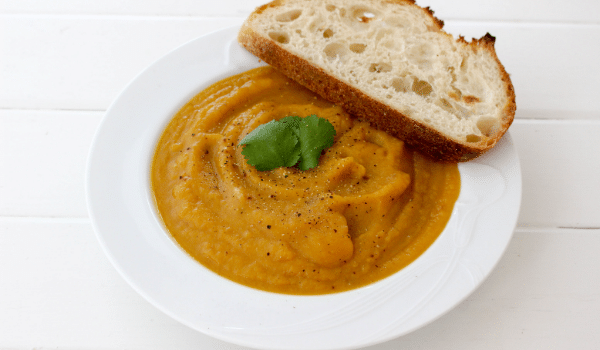 Serves: 4 | Prep time: 20 mins | Cook time: 1 hour
Ingredients
1kg pumpkin (kent or butternut), diced

1 brown onion, quartered
2 cloves garlic, peeled
2 tbsp extra virgin olive oil
1 tsp ground cinnamon
1 tsp ground cumin
1 tsp ground coriander
Dash of cayenne pepper (optional)
1L vegetable stock, salt reduced
Salt and pepper, to season
Fresh coriander, to serve
Greek yoghurt, to serve
Wholegrain bread, to serve
Method
Preheat oven to 180°C and line a large baking tray with baking paper. 
Dice pumpkin into chunks and place on baking tray. Add whole garlic cloves and onion wedges.
Sprinkle pumpkin with cinnamon, cumin and coriander and drizzle with olive oil. Toss to coat and season generously with salt and pepper.
Bake in oven for 40-50 minutes or until pumpkin is golden and tender.
Heat a large saucepan over medium-high heat. Add roasted pumpkin, garlic and onion and stock. Cover. Bring to the boil. Reduce heat to medium-low and cook until heated through. Set aside for 5 minutes to cool slightly. 
Blend pumpkin mixture until smooth using a hand blender. Taste test and adjust accordingly.
Ladle pumpkin soup into serving bowls. Drizzle with greek yoghurt and sprinkle with coriander. Serve with wholegrain toast.