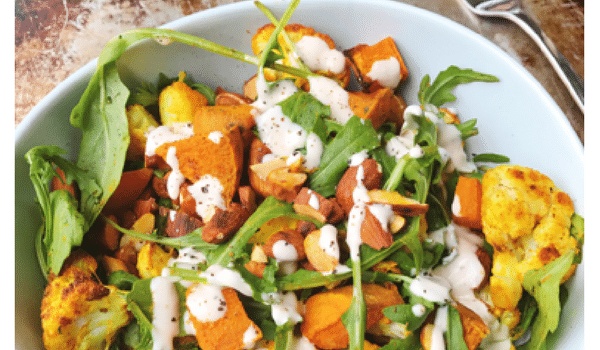 Serves: 4 | Prep time: 15 minutes | Cook time: 30 minutes
Ingredients
1 cauliflower head
1 sweet potato, medium
1 tablespoon Moroccan spice blend (substitute: turmeric)
1 teaspoon cinnamon
1 tablespoon extra virgin olive oil
80g almonds
3 handfuls of rocket
Salt and pepper to taste
Yoghurt dressing
1/3 cup natural yoghurt
1 clove garlic, roasted, crushed
3 tablespoons lemon
Pinch of salt and pepper
Method
Preheat the oven to 200°C/180°C fan-forced. Line an oven tray with baking paper.
Cut the cauliflower into small florets. Peel and cut the sweet potato into 1 cm cubes. Add to a large bowl.
Add olive oil, Moroccan spice mix and cinnamon to cauliflower and sweet potato mixture. Season with a pinch of salt and pepper.
Transfer the cauliflower and sweet potato onto the prepared tray. Cook in the oven for 30 minutes or until the sweet potato is tender and the cauliflower is golden and slightly charred on the edges.
To roast the almonds, place almonds on a lined baking tray and pop in oven for approximately 10 minutes.
To make the dressing stir together the yoghurt, garlic, lemon, salt and pepper. Adjust the consistency with a little warm water or extra virgin olive oil.
In a large bowl combine the rocket, roasted almonds cauliflower and sweet potato and drizzle over with dressing and then season with salt and pepper.
To see more of our recipes, click here.
To try out Pumpkin & Cauliflower Curry recipe, please click here.
For more information on the benefits of cauliflower, please click here.