Pumpkin & Cauliflower Curry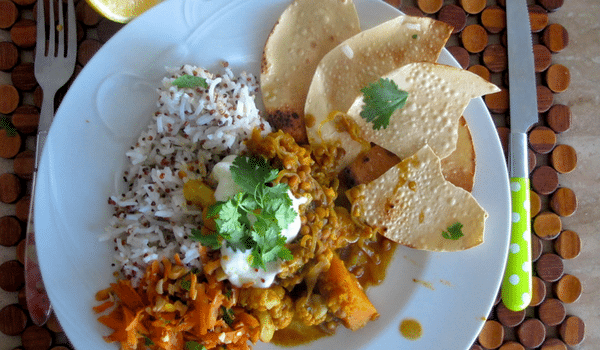 Serves: 4 | Prep time: 10 mins | Cook time: 30 mins
Ingredients
4 cloves garlic
2 brown onions, sliced
1 small cauliflower, chopped into small pieces
1/2 butternut pumpkin, chopped into small pieces
1 red fresh chilli, sliced
¼ jar Patak's rogan josh paste
1 x 400g can brown lentils
1 tub natural yoghurt
½ cup basmati rice
½ cup tri-coloured quinoa
5 carrots, grated
Handful roasted almonds, sliced
1 bunch fresh coriander
2cm fresh ginger, grated
1 lemon
Extra virgin olive oil
1 packet poppadoms
Method
1. Heat large saucepan over high heat. Add splash of olive oil, add sliced onion and cook until softened. Add splash of water and cut up butternut pumpkin to the pan and continue to stir. Then add cut-up cauliflower to pan, diced chilli and crushed garlic cloves. Add 1/2 of the chopped up coriander and another generous splash of water.
2.Add rogan josh paste and tin of lentils, with their juices. Season with pinch of salt and pepper and put lid on and cook for 10 minutes, stirring occasionally.
3. Cook rice and quinoa in separate saucepans as per packet instructions. Once cooked mixed together rice and quinoa.
4.Toast almonds in a small pan on medium heat, tossing for a couple of minutes until golden. Tip onto chopping board and crush almonds. Wash carrots and then grate them and add to bowl. Add remaining coriander to the bowl. Grate ginger and add to bowl. Finely grate some lemon zest and drizzle lemon and olive oil over salad and toss to coat.
 5.Take lid off curry and add some boiling water if needed, pending on how you would like the consistency.
 6. Cook up the poppadoms as per packet instructions.
 7. To serve: tip yoghurt into a small bowl and drizzle olive oil over. Spoon yoghurt over curry, add some carrot salad and enjoy with poppadoms. Garnish with some coriander and squeeze of lemon. Add salt and pepper to taste.
—
For more healthy and delicious recipes, click here.