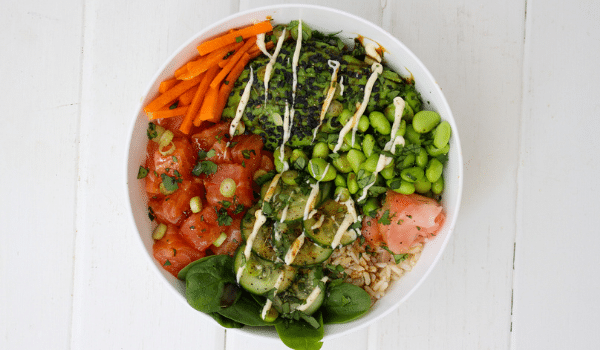 Serves: 2 | Prep: 15 mins
Ingredients
200g fresh Huon salmon, skin off, cubed
3/4 cup uncooked brown rice
1 small carrot, finely cut into matchsticks

½ cucumber, sliced

½ cup edamame beans

1 avocado, sliced
1 cup spinach
1 spring onion, finely sliced
1 handful fresh coriander leaves, roughly chopped
Kewpie mayonnaise, to serve
Black sesame seeds, to serve
Sauce:
2 tbsp reduced salt soy sauce
1 tbsp rice vinegar
1 tbsp sriracha
1 tbsp maple syrup (or honey)
2 tsp sesame oil
1 cloves garlic, crushed
1 tsp ginger, finely grated
Method
1. Cook brown rice according to packet instructions. 
2. In a small bowl combine sauce ingredients and mix well. 
3. Divide brown rice between two bowls as a base layer. Arrange salmon, carrot, avocado, cucumber, edamame, pickled ginger and spinach on top. Sprinkle coriander, spring onion and sesame seeds on top. 
4. Drizzle sauce over the top followed by a drizzle of kewpie mayo. Enjoy!
Notes:
This delicious poke bowl recipe was developed in collaboration with Huon Aquaculture. You can purchase fresh Sashimi grade salmon directly via Huon's website. 
Check out our Flexitarian Cookbook here.
Don't forget to follow us on Instagram for healthy recipes and nutrition tips.