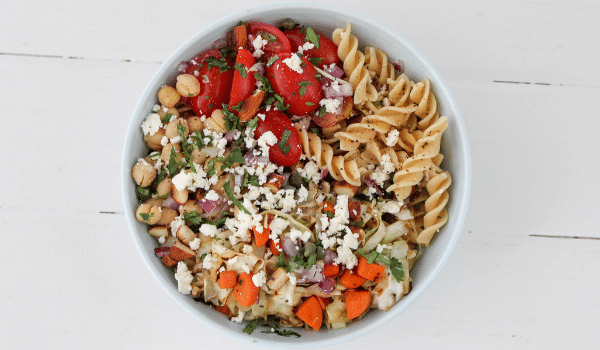 Serves: 2  | Prep time: 10 mins  | Cook time: 10 mins
Ingredients
1/2 cup uncooked @sanremopasta pulse pasta⁠
1 tbsp extra virgin olive oil⁠
1/4 green or purple cabbage, finely shredded⁠
1 garlic clove, crushed⁠
1 carrot, diced finely⁠
1/2 punnet cherry tomatoes, halved⁠
1/2 x 400g canned chickpeas, drained and rinsed⁠
1/4 small red onion, finely diced⁠
1/4 bunch coriander, finely chopped⁠
30g feta, crumbled⁠
Dressing:⁠
1 tbsp extra virgin olive oil⁠
1 tbsp balsamic vinegar⁠
1/2 lemon, juiced⁠
Additional extras:⁠
1 tbsp roasted almonds, roughly chopped (to serve)⁠
Methods
Cook pulse pasta according to packet instructions.⁠
Heat a drizzle of olive oil in a pan over medium heat. Add the shredded cabbage, garlic and carrot and cook for 4-5 minutes, until lightly sautéed. Option to add a dash of balsamic vinegar while sautéing.
To assemble the bowl, divide pasta between bowls, top with chickpeas, tomatoes, red onion, sautéed cabbage and carrots. Add coriander, almonds and crumble feta over the top. Season with salt and pepper and enjoy!
Notes
This recipe is gluten free.
The pulse pasta in this recipe helps to boost the fibre and protein of the meal!
If you're looking for more super delicious and healthy recipes, then check out our Flexitarian Challenge. When you sign up you'll receive our Flexitarian Cookbook with over 45 recipes, as well as a bunch of nutrition support!