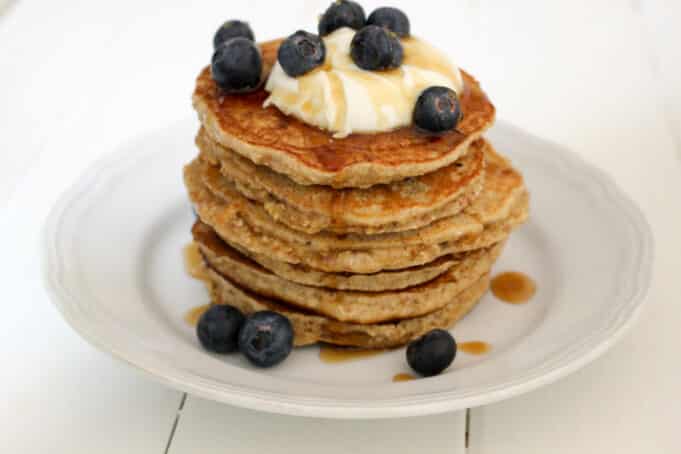 Makes: 6 small pancakes | Prep time: 5 minutes | Cook time: 10 minutes
Ingredients
1 tablespoon extra virgin olive oil
½ cup rolled oats
2 eggs
¼ cup milk
1 tsp cinnamon
1 tsp maple syrup
1 tbsp chia seeds
1 ripe banana, mashed
1 tsp vanilla extract
½ cup almond meal
1 tsp baking powder
½ cup Greek yoghurt
Handful of blueberries
Maple syrup, to serve
Methods
1.  In a food processor, blitz the oats until they become a fine flour.
2. Whisk eggs and milk in a bowl.
3. In a larger bowl, whisk together the blitzed oats, milk and eggs, cinnamon, maple syrup, chia seeds, mashed banana, vanilla extract, almond meal and baking powder.
4. Heat a non stick pan over medium heat and add extra virgin olive oil.
5. Pour batter into pan and cook one side until you see little bubbles start to form.
6. Flip carefully and cook the other side until cooked through. Repeat with remaining batter.
7. Top with blueberries, Greek yoghurt and drizzle with maple syrup.
Notes:
To make this recipe gluten-free, replace rolled oats with either additional almond meal or chickpea flour.
For more delicious breakfast recipes, click here.
This recipe was created in partnership with Dairy Australia.
To learn more about kids nutrition, click here.