One Tray Thai Coconut Salmon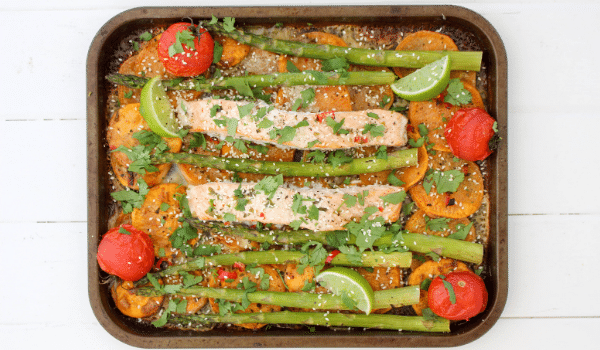 Serves: 2 | Prep time: 10 mins | Cook time: 20-30 mins
Ingredients
1 large sweet potato, sliced into thin circles
1 tsp sesame oil
150 ml salt reduced vegetable stock
150 ml light coconut milk
2 tsp lemongrass paste
2 cm piece of ginger, grated (around the size of your fingertip)
2 cloves of garlic, crushed
1 lime, juiced
1 long red chilli, de-seeded, finely sliced
1 bunch asparagus
4 vine tomatoes
Fresh coriander, to serve
Lime wedges, to serve
Salt reduced soy sauce, to serve (optional)
Method
Preheat the oven to 190°C.
Arrange the sweet potato slices, overlapping, in a medium baking dish.
In a small bowl or jar, mix together the sesame oil, stock, coconut milk, lemongrass, ginger, garlic, chilli and lime juice. Pour 3/4 of the mixture over the potatoes (leaving a small amount for later). Roast sweet potatoes for 20-30 minutes, or until potatoes are cooked. About 8-10 minutes before the cooking time is up, remove tray from oven and place the salmon on the potatoes, add asparagus spears and tomatoes and top with the rest of the coconut mixture.
Serve fish with sweet potato, asparagus and tomatoes and pour juices over the top. Top with fresh coriander and serve with lime wedges. Option to add a drizzle of soy sauce.