Honey Roasted Carrots with Herbed Yoghurt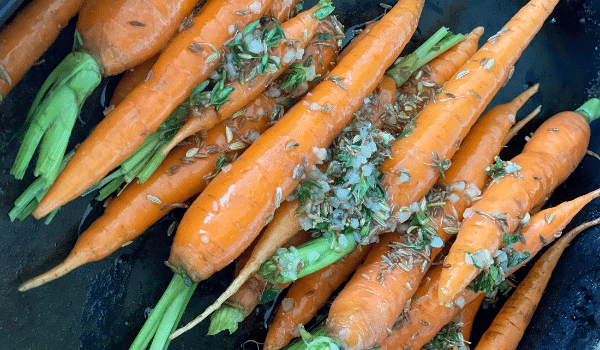 Serves: 4 | Cook: 10 mins
Ingredients
2 ½ tbsp honey

2 tbsp extra virgin olive oil

½ tbsp garlic, crushed

2 bunches baby carrots, washed thoroughly (not peeled)

2 tsp cumin seeds

1 tsp fennel seeds

5 thyme sprigs, leaves only

¼ cup white wine vinegar

½ bunch coriander, leaves only, chopped finely

Salt and pepper, to season
For the herbed yoghurt:
1 cup Greek yoghurt

½ lemon, juice only

Remaining ½ bunch coriander, leaves only, chopped finely
Method
Preheat the oven to 180'C fan-forced.

Combine the olive oil, garlic, honey, thyme, cumin seeds and fennel seeds in a bowl, tossing to coat the carrots. Season well with salt and pepper.

Transfer to a baking tray and bake in the oven for 30-40 minutes, or until the carrots are tender, cooked through and glazed.

Meanwhile, make the herbed yoghurt by mixing together all the ingredients in a separate bowl, with a pinch of salt. Set aside.

Remove the tray with the carrots from the oven and, while still hot, deglaze the tray by pouring in the white wine vinegar and tossing around the tray. (Be sure to stand back while you do this step!) Leave to cool.

To serve, place the carrots on a serving plate and drizzle with the herbed yoghurt, sprinkling the remaining coriander over the top.