Honey Mustard Glazed Salmon with Zucchini Salad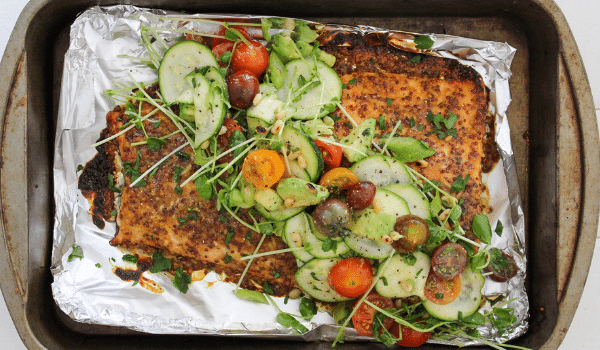 Serves: 6 | Prep: 15 mins | Cook: 20 mins
Ingredients
1kg Fresh Huon Salmon Fillet (Premium Grade)

¼ cup wholegrain mustard

1 tsp dijon mustard

11/2  tbsp honey

3 garlic cloves, minced

2 tbsp white wine vinegar

½ tsp salt

½ tsp freshly cracked pepper

1 tsp ground smoked paprika

½ tsp ground cumin

½ tsp ground coriander 

¼ bunch parsley, finely chopped, to season
Zucchini Salad:
¼ cup pine nuts

1 zucchini, sliced into thin circles

1 punnet cherry tomatoes, halved

100g pea shoots, chopped

1 avocado, diced

2 shallots, chopped
Salad dressing
¼ cup extra virgin olive oil

1 lemon, juiced

1 tbsp white wine vinegar

1/4 bunch parsley, finely chopped

½ tsp salt

½ tsp freshly ground pepper
Method
Heat oven to 200° C. Line a baking tray with aluminium foil.

To make the marinade, in a small bowl, whisk the wholegrain mustard, dijon mustard, honey, garlic, white wine vinegar, salt, pepper, ground paprika, ground cumin and ground coriander. Taste and adjust accordingly.

Place the salmon skin-side down on the foil. We recommend patting salmon dry with paper towels. Top with the marinade and spread it out to cover the whole fillet.

Transfer salmon to oven and cook for 15 minutes.

Meanwhile, heat a frypan over low heat and roast the pine nuts for 3-4 minutes.

To make the salad, in a large bowl combine the zucchini, tomatoes, pea shoots, avocado and shallots in a large bowl. Top with roasted pine nuts.

To make the dressing, in a small bowl, whisk the olive oil, lemon juice, white wine vinegar, parsley, salt and pepper. Taste sauce and adjust accordingly. Drizzle sauce over the salad.

Serve salad on top of salmon fillet or on the side. Enjoy!
Notes:
You can make this recipe using individual salmon fillets, you just need to adjust the marinade ingredients accordingly and simply coat individual fillets with the marinade.
This recipe was created in collaboration with Huon Aquaculture.
For more delicious dinner recipes, click here.
Follow us on Instagram at @thebitingtruth.
Check out our Flexitarian Cookbook.