Garlic & Rosemary Hasselback Potatoes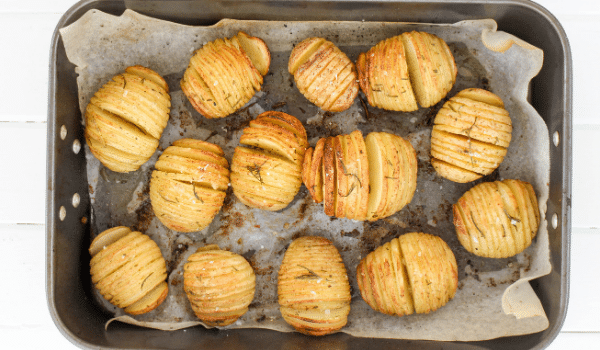 Serves: 4-6 | Prep: 15 mins | Cook: 30 mins
Ingredients
6-8 gold potatoes
1/4 cup extra virgin olive oil spray
1 tsp McCormick Garlic Powder

2 sprigs fresh rosemary, roughly chopped

Salt and pepper, to season
Method
Preheat oven to 200°C

and line a large baking dish with baking paper.

In a bowl, combine oil, garlic powder, salt and pepper.

Using a sharp knife, cut thin vertical slices from one end to the other, being careful not to cut all the way through the potato. 

We found it helpful to position 2 wooden spoons on either side of the potato to help prevent cutting through.

Place potatoes in the baking dish and using a brush to coat the potatoes in the garlic oil mix. Toss gently to evenly cover the potatoes, ensuring all sides are coated. Sprinkle the rosemary sprigs over the potatoes and season with salt and pepper.

Place potatoes in the oven and roast for 50-60 minutes, or until golden and crispy. We recommend removing potatoes half way and brushing with any remaining oil (try and brush the oil between the slices if possible). Enjoy warm!
Notes
Try different herbs and spices with these Hasselback Potatoes to mix it up!
For more delicious and healthy recipes, check out our Flexitarian Eating Guide eBook.