Grilled Halloumi Tacos with Chipotle Sauce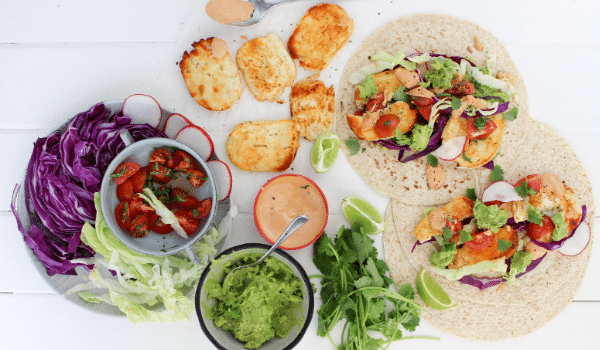 Serves: 4 | Prep time: 15 mins | Cook time: 5 mins
Ingredients
225g Halloumi cheese
1 tbsp Extra virgin olive oil
2 tsp smoked paprika
1 punnet cherry tomatoes, quartered
1/4 bunch fresh coriander, chopped
2 limes, juiced
1 Avocado
2 tbsp Chipotle paste
1 tbsp natural yoghurt
4-6 tortilla wraps
1 cup lettuce, shredded
1 cup purple cabbage, shredded
Pepper, to taste
Method
Heat oven to 180 degrees celsius.
Add halloumi slices to a baking tray and drizzle with olive oil and sprinkle with smoked paprika. Heat in the oven for 4-5 minutes.
Meanwhile, to make the tomato salsa, combine tomato, coriander salsa and one lime juice. Season with pepper.
Combine chipotle sauce, natural yoghurt and a small squeeze of lime in a small bowl and whisk together.
Smash the avocado and add a squeeze of lime.
Heat the tortillas according to the packet instructions. 
Serve tortillas warm and top with smashed avocado, lettuce, cabbage, grilled halloumi, tomato salsa and top with chipotle yoghurt.