Garlic & Herbed Baked Salmon with Greens and Potatoes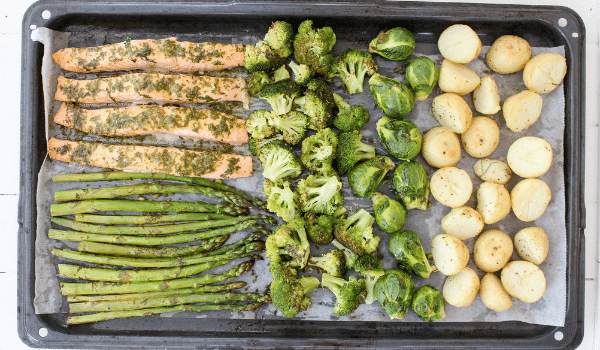 Serves: 4 | Prep time: 15 mins | Cook time: 20 mins
Ingredients
8-10 baby potatoes, halved
1 tablespoon extra virgin olive oil
4 x Huon salmon portions (skin off)
2 bunches asparagus, trimmed
1 head broccoli, cut into florets
10 brussel sprouts, halved
Lemon wedges, to serve
Salt and pepper, to season
Garlic sauce
3 cloves garlic, crushed
1 lemon, juiced
2 tablespoons white wine vinegar
4 tablespoons extra virgin olive oil
1/4 bunch fresh parsley, finely chopped
Salt and pepper, to taste
Method
1. Heat oven to 200ºC and line a baking tray with baking paper.
2. Put potatoes in a saucepan and cover with cold water. Bring potatoes to the boil then turn down the heat and simmer for 8-10 minutes or until soft. Drain potatoes in a strainer. Transfer potatoes to lined baking tray, drizzle with olive oil and season with salt and pepper. Roast potatoes in the oven for 20 minutes.
4. Meanwhile, whisk together the garlic sauce ingredients.
5. Pour garlic sauce over salmon, asparagus, broccoli and brussel sprouts. Return to the oven and cook for 10-12 minutes, until salmon and vegetables are cooked through.
7. Serve up salmon with greens and a lemon wedge and season with salt and pepper.