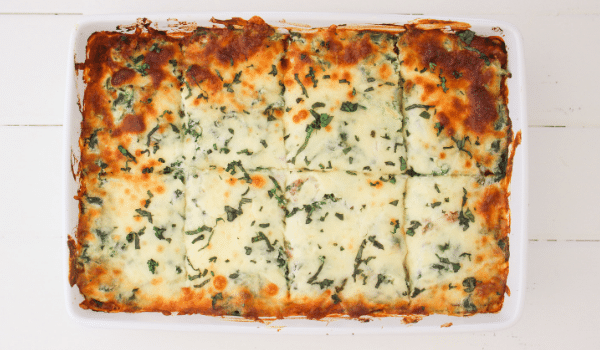 Serves: 6-8 | Prep time: 10 mins | Cook time: 55 mins
Ingredients
Meat sauce:
1 tsp extra virgin olive oil
2 cloves garlic, crushed
500g extra lean beef mince
1 1/2 cup (350g) passata sauce
1 tbsp italian seasoning
Salt and pepper, to season
Other ingredients:
2 large eggplants
Extra virgin olive oil spray
400g ricotta cheese
250g frozen spinach
1/2 cup grated parmesan cheese
1 egg, whisked
1/4 cup milk
1 cup shredded mozzarella
2 tbsp chopped fresh basil
Mixed salad leaves, to serve
Method
1. Preheat the oven to 200°C. Line two baking trays with baking paper.
2. Arrange sliced eggplant in a single layer on the 2 baking trays – if some of your end eggplant slices are very curved, trim off the eggplant outermost curvy portion so that the slices lay mostly flat. Spray the eggplant with olive oil spray on both sides (option to use brush with oil instead). Season with salt and pepper. 
3. Transfer the eggplant to the oven for 25 minutes, flipping half way. Remove the slices from the oven and reduce the oven temperature to 180°C.
4. Meanwhile, to make the meat sauce, heat a drizzle of olive oil in a large pan over medium heat. Add the garlic and cook for about 30 seconds, until fragrant.Add the beef. Season with salt and pepper.Cook for 10 minutes, until browned, breaking apart the meat with a spatula. Stir in passata sauce and Italian seasoning. Reduce heat to a gently simmer for 10 minutes. Set aside.
5. In a large bowl add the ricotta, half of the parmesan,egg, milk and season with salt and pepper. Mix well, until combined. Stir in the spinach, using a fork to break it up and distribute it as evenly with the ricotta mixture as possible. 
6. Lightly grease a baking dish with olive oil. Assembly the lasagna by laying some of the eggplant in a single layer to cover the bottom of the dish. Top with a layer of the meat mixture, followed by a layer of the ricotta mixture. Repeat with a layer of eggplant, meat and ricotta. Top with the mozzarella cheese and remaining 1/4 cup parmesan cheese. Option to sprinkle with oregano.
7. Bake in the oven for 25-30 minutes, until the cheese is melted and the lasagna is hot and bubbly. Remove from the oven and sprinkle with fresh basil.
8. Allow to rest for 5-10minutes, then serve. We recommend serving with a mixed salad.