Apricot & Coconut Energy Balls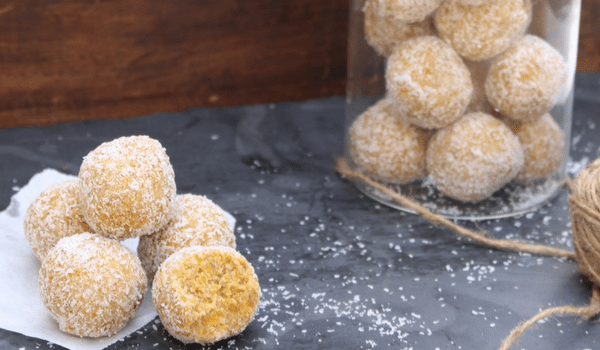 Makes: 12 balls | Prep Time: 15 minutes | Cook time: 40 minutes
Ingredients
1 cup almonds or cashews

1 cup dried apricots

1/2 cup dates (soaked in boiling water)

1/2 cup desiccated coconut (plus extra for rolling)

1 tsp vanilla extract

Pinch of cinnamon

1 tbsp white chia seeds

2 tbsp coconut oil (melted)

1/4 lemon zest
Directions
Place nuts in food processor and blitz for 1 – 2 minutes, or until crumbled.
Add the rest of the ingredients to the food processor and blend until well combined. Note: if the mixture is not sticking together, add a tablespoon of warm water.
Transfer mixture to a bowl.
Place some coconut on a large plate. Roll tablespoons of the mixture into balls and roll in the coconut to coat.
Place balls in an airtight container in the fridge to harden. Balls should keep for up to 7 days in the fridge.