Healthy Walnut & Banana Bread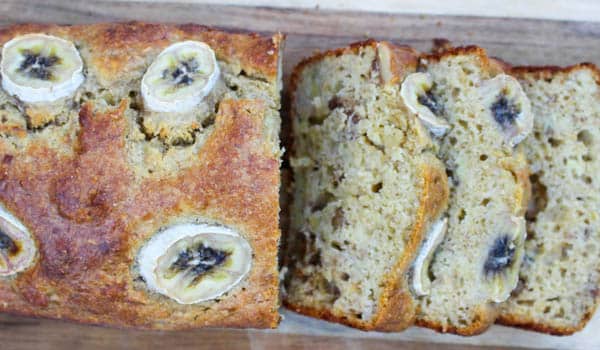 Serves: 8-10  | Prep time: 15 minutes | Cook time: 55 minutes
Ingredient
3 medium bananas
2 eggs
125ml olive oil
80ml rice malt syrup or honey
60g natural yoghurt
1 tsp vanilla extract
1 tsp lemon zest
1 tbsp lemon juice
150g wholemeal self raising flour
1/2 tsp cinnamon, ground
50g walnuts, roughly chopped
Methods
1. Preheat the oven to 180°C and line loaf tin with baking paper.
2. In a bowl, mash 2 of the bananas and then add the eggs, olive oil, rice malt syrup, yoghurt, vanilla, lemon zest and lemon juice and mix together until combined.
3. Add in the flour, cinnamon and walnuts and gently combine.
4. Pour the batter into the lined loaf tin. Top the batter with sliced banana.
5. Bake in the oven for 50 minutes or until a skewer comes out clean.
6. Leave to cool on a wired rack for 15 minutes before serving.
Our team of dietitians work hard to make healthier alternatives of traditional recipes you love! If you enjoyed this recipe, check out other treat recipes here!