Turkey Mince Lasagne (Pasta Free)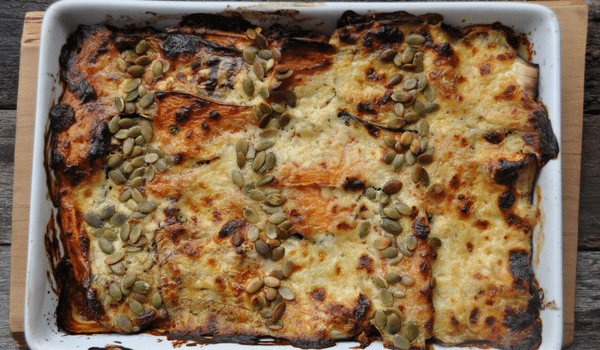 Serves: 6 | Prep time: 40 minutes | Cooking time: 35-40 minutes
For those with allergies or intolerances this recipe is gluten free
Ingredients
1 large sweet potato
1 large eggplant
500g turkey mince
1 can of tinned tomatoes
1 brown onion, diced
200g low fat cottage cheese
1 cup tomato passata
1 cup peas
Pepita seeds (to decorate)
1 tsp chilli flakes
1 clove garlic, crushed
Method
1. Set oven to 180°C (fan forced).
2. Cut the sweet potato and eggplant into thin slices length ways.
3. Dice one brown onion and sauté in a pan over medium heat with a little olive oil. Add crushed garlic. Add turkey mince to the pan and stir until the mince has browned.
4. Place the sweet potato and eggplant on the grill and slightly cook until soft. Remove from grill and set aside.
5. Once the mince is browned, add tinned tomatoes and tomato passata. Leave to simmer for approximately 15 minutes.
6. Add in peas and chilli flakes.
7. In a baking dish, layer the bottom with a combination of the sweet potato and eggplant. On top of the vegetables add a layer of the turkey mince followed by a layer of cottage cheese.
8. Repeat this layering process until you finish with a third layer of cottage cheese.
9. Sprinkle with pepita seeds and place in the oven for around 35-40 minutes.
Note: We've found the Lasagne tends to hold together better if you make this recipe the day before.
—
For more healthy and delicious recipes, click here.