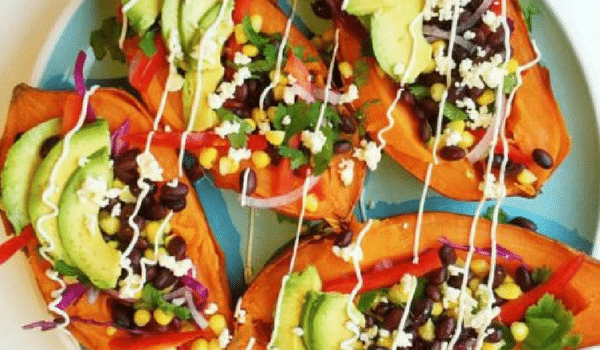 Serves: 4 | Prep time: 15 mins | Cook time: 60 mins
Ingredients
2 whole sweet potatoes
1 cup black beans (we use tinned, washed and drained)
1/4 purple cabbage, shredded
1/2 red capsicum, cut into strips
1/4 small Spanish onion, diced
1 medium corn cob
Coriander, to decorate
Feta, crumbled to decorate
1/2 avocado
Olive oil
Tahini Dressing
3 tbs natural yoghurt
1 tsp tahini
Squeeze of lemon
Zip lock bag
Method
1.
Preheat the oven to 180 degrees celsius
2. 
Place sweet potatoes on a baking tray lined with baking paper and drizzle with olive oil. Place in the oven for 60 minutes or until soft in the centre.
3. 
Steam corn cob and then remove kernels from cob.
4.
 Combine all the ingredients for the tahini dressing and transfer to a zip lock bag.
5.
 Once sweet potato is soft in the centre, cut in halves and fill with cabbage, capsicum, black beans, corn, Spanish onion and decorate with feta, coriander and avocado.
6.
 Cut a small whole in the corner of the zip lock bag to create a 'piping bag'. Drizzle this dressing over the sweet potatoes. Enjoy!
—
For more simple and delicious vegetarian recipe ideas that the whole family can enjoy 
click here.