Green Machine Smoothie Bowl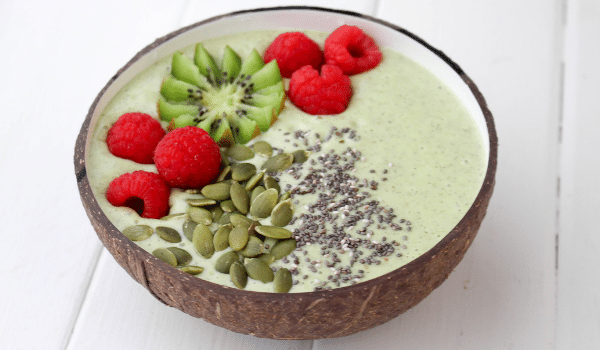 Serves: 2 | Prep time: 5 minutes
Ingredients
1 frozen banana
1 kiwi fruit
1 handful baby spinach
1 cup frozen pineapple
1 cup milk
1/2 cup greek yoghurt
1/2 teaspoon ground cinnamon
1 teaspoon chia seeds
Fresh fruit to decorate
Method
Combine all ingredients into a blender and blend until desired consistency is achieved.
Pour smoothie into a bowl and top with your choice of fresh fruit and nuts and seeds. In the image above we used chia seeds and pepita seeds.
Notes
This recipe is the perfect breakfast option! It provides a good amount of protein, which will help to keep you feeling full all morning long!
For more smoothie recipes, click here.
For more breakfast recipes, click here.
This recipe was created in partnership with Dairy Australia.