Strawberry & Banana Kefir Smoothie Bowl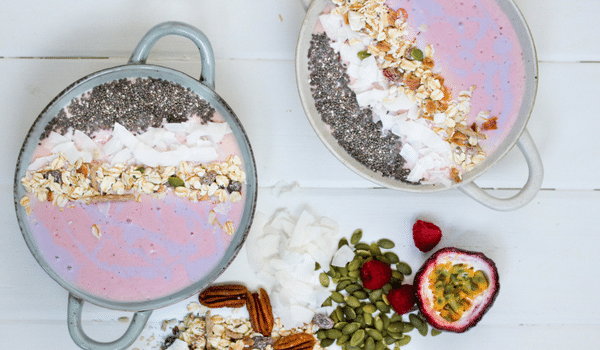 Serves: 2 | Prep time: 5 minutes
Ingredients
2 large bananas, frozen, chopped
1 punnet strawberries, frozen, chopped
1/2 cup milk
1 tablespoon yoghurt (Greek or plain)
1/2 cup Kefir
1 tsp cinnamon, ground
2 dates, pitted, roughly chopped
1/2 cup Sunsol's probiotic muesli (to decorate)
Method
Add all ingredients to a blender and blend until desired consistency is achieved.
Pour into two bowls and top each bowl with 1/2 cup of muesli.
Add a selection of your favourite toppings to complete the smoothie bowl and enjoy!
Smoothies can be a really healthy snack or meal option, as long as they are well balanced and don't contain too many added sugars. Our smoothie recipes are a good source of protein and also contain a serve of fruit (and sometimes veggies). We like to sweeten our smoothies naturally using dried fruits like dates, as this keeps the sugar content in check! To check out some of our other smoothie recipes, click here!