Steamed Snapper with Capsicum Salsa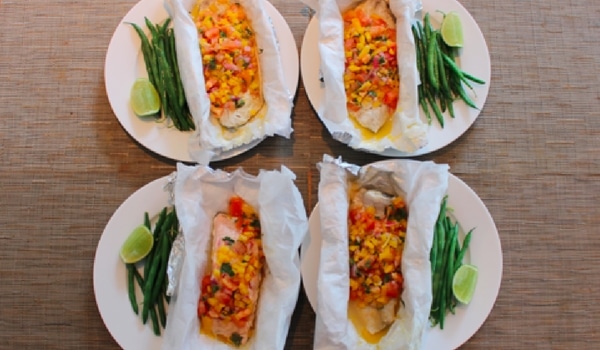 Serves: 4 | Prep time: 10 mins | Cook time: 20 mins
Ingredients
Salsa:
1 x cup tomatoes, seeded and chopped
1/2 x red onion, finely chopped
1/2 x small red capsicum, chopped
1/2 x small yellow capsicum, chopped
1 x clove garlic, finely chopped
Handful of coriander leaves, chopped
1 teaspoon cumin
1/2 long red chilli, deseeded, finely chopped (optional)
1 lemon, juice
2 tablespoons extra virgin olive oil
White wine vinegar to taste
Fish:
4 x 200g snapper, no skin
1 tablespoon extra virgin olive oil
2 x limes to taste
Steamed green beans, to serve
Pepper, to taste
Method
1. Preheat oven to 200°C.
2. To make salsa: Add tomatoes, red onion, capsicum, coriander cumin, chilli, garlic and lemon to a bowl and mix. Add in some olive oil and some white wine vinegar to taste.
3: To cook fish: Place foil on bench (3 x bigger than the fish) and place the snapper fillet in the middle of the foil. Then spoon a quarter of the salsa on top of each fish fillet, followed by a drizzle of olive oil. Close the foil up by pressing the corners together. Place fish parcels on an oven tray and bake for 12 – 15 minutes.
4. Serve up with a side of tasty steamed green beans and a squeeze of lime and enjoy!
—
For more healthy and delicious recipes, click here.