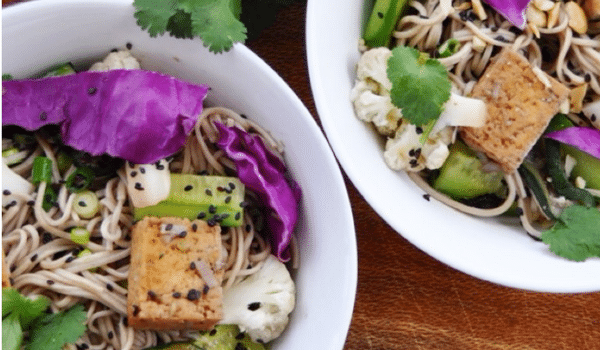 Serves: 3-4 | Preparation time: 40 minutes | Cooking time: 10 minutes

For those with allergies or intolerances this recipe is both gluten and dairy free
Ingredients
1 pack soba Noodles*
¼ purple cabbage
1 leek, chopped
2 shallots, chopped
1 garlic, crushed
1 tsp ginger, crushed
¼ cauliflower
½ zucchini, chopped
200g tofu
Coriander, chopped
Olive oil
Dressing:
1 tsp ginger, crushed
1 tsp tamari
½ tsp sesame oil
1 tbsp vinegar
1 x lime juice
2 tbsp black sesame seeds
*For gluten free, ensure noodles are made from 100% buckwheat flour

Method
1. Rinse soba noodles under running water and then place in a pot of boiling water on the stove. When boiling add in cup of cold water and let water come to boiling again and then add another cup of water. Cook as per packet instructions until al dente. Once cooked refresh under cold running water and transfer to large bowl.
2. Heat olive oil in a fry pan over medium heat and cook the tofu for 2 minutes on each side, or until light golden.
3. Steam the cabbage, zucchini, cauliflower and the leek and then add to the pan with tofu, crushed garlic and ginger. Toss together
4. To prepare the dressing combine all ingredients in a small bowl and stir with a whisk.
5. Combine everything in a bowl, top with coriander and shallots and drizzle with dressing, tossing well to coat.
—
For more healthy and delicious recipes, click here.