Raw Chocolate & Walnut Brownies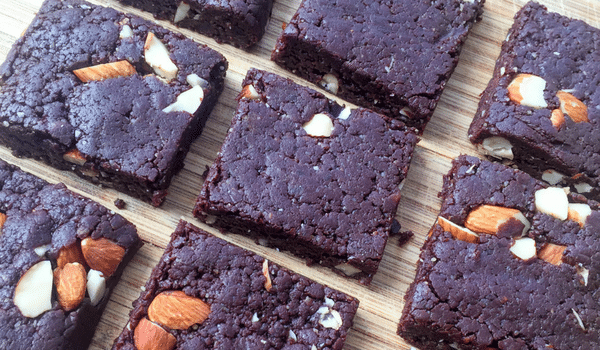 Makes: 24 brownies | Prep time: 10 mins | Cook time: 2 hours
Ingredients
2 cups raw walnuts
3/4 cup cacao powder
Pinch sea salt
1 tsp vanilla extract
2 1/2 cups medjool dates, pitted
1 cup raw almonds, chopped
Methods
Line a shallow rectangular baking tin with baking paper.
Place walnuts in food processor and blend until fine.
Add the cacao, vanilla and salt and pulse.
With the food processor running, add the dates one at a time until the mixture becomes like a thick dough. Option to add honey here for a little more sweetness.
Transfer mixture to a large bowl and combine with chopped almonds.
Press mixture into baking tin and refrigerate for 2 hours.
Remove from refrigerator, cut into squares and serve!
Notes
Store brownies in the fridge so they stay firm. They will keep for up to two weeks.
If you want to play around with flavours, try adding goji berries, cacao nibs, coconut flakes or even crunchy peant butter instead or (or in addition to ) the chopped almonds.
You can add an frosting layer on top of the brownie by mixing some melted coconut oil, cacao and honey.
These brownies contain no added sugars (unless you choose to add a bit of honey). The sweetness comes from the natural sugars in the dates. They are also a source of protein and fibre (from the nuts), which should help to keep you full.
If you're looking for a sweet treat in the afternoon or after dinner, these raw chocolate brownies are a great option. Just make sure you stick to one brownie!
Looking for other meal prep ideas?
RAW CHOCOLATE & WALNUT BROWNIES
Per serve (1 brownie, 40g)
Per 100g
Energy
 180 calories (752 kJ)
485 calories (2027 kJ)
Protein
4g
10g
Carbohydrate
14g
37g
-Sugars (natural sugars only)
12g
31g
Total fat
12g
31g
-Saturated Fat
1g
3g
Fibre
3g
8g
Sodium
10mg
26mg
For more treat recipes, click here.
—
This recipe was developed by Hollie Prince, who is an student dietitian intern at The Biting Truth.