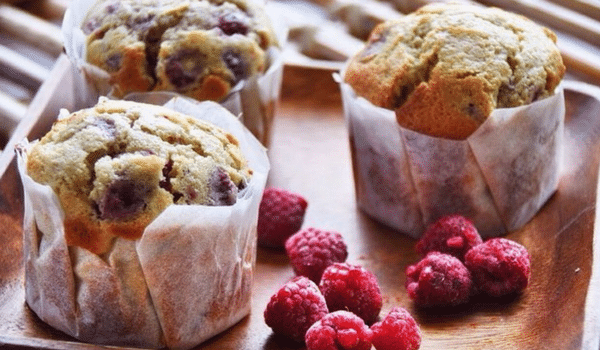 Serves: 12 | Prep time: 15 mins | Cooking time: 30-35 mins
Ingredients
2 cups of wholemeal flour
1 cup caster sugar
1 teaspoon bicarb soda
1 cup milk
2 large eggs
1 teaspoon vanilla essence
1/3 cup extra virgin olive oil
175g raspberries (fresh or frozen)
—
For more healthy and delicious recipes, click here!
Method
1. Preheat the oven to 180 degrees celsius and line 12 muffin tins with baking paper
2. Sift flour, sugar and bicarb soda into a large bowl
3. Pour milk into a jug, lightly beat eggs and then add in vanilla and oil
4. Make a small well in the dry ingredients and slow pour in the liquid ingredients. Mix gently until combined.
5. Fold in the raspberries
6. Spoon the mix into the muffin tins and bake for ~30-35 minutes.