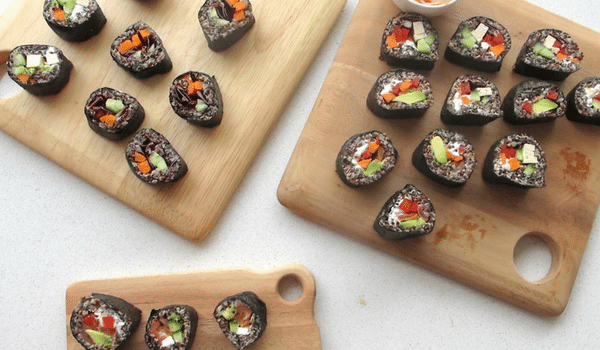 Serves: 2-4 | Prep time: 30 minutes | Cooking time: 20 minutes
For those with allergies or intolerances this recipe is both gluten and dairy free
Ingredients
1 cup quinoa
2 cups water
1 cup rice wine vinegar
2 medium beetroots, roasted
1 tbsp sugar
1 tsp salt
1/2 avocado
2 cucumbers, thinly sliced
1/2 sliced cabbage (purple or white)
2 tbsp cottage cheese*
1 carrot, sliced/grated
Pickled ginger
Tamari soy sauce
Protein of your choice: tofu, salmon, tuna, chicken
* If allergic or intolerant to dairy leave out cottage cheese
Method
1. Place the quinoa and water into a saucepan over medium heat and bring to the boil. Simmer for approximately 15 minutes.
2. Drain the excess water and set quinoa aside in a bowl to cool.
3. In a small saucepan, add the vinegar, sugar and salt and heat over medium heat for approximately 5 minutes or until sugar and salt are well dissolved.
4. Pour the vinegar mix over the cooled quinoa and stir to ensure the quinoa soaks up the liquid.
5. Place your sushi mat on a chopping board and top with a sheet of nori (shiny side down).
6. Take some quinoa and evenly spread it over the nori (leave a small border along the edge that is furthest away from you).
7. Arrange some fillings (you can mix up the combinations) in a thin line running through the center of the mat.
8. Be careful not too add too much otherwise your roll may burst.
9. Now holding onto the mat, roll away from you until you have a neat roll.
10. Using a sharp knife, cut the roll into individual pieces.
Nutritional Benefits
Packed with protein rich quinoa, a variety of vegetables and your choice of protein, this recipe ticks so many nutritional boxes.
—
For more healthy and delicious recipes, click here.