Tri-coloured Quinoa & Boiled Egg Salad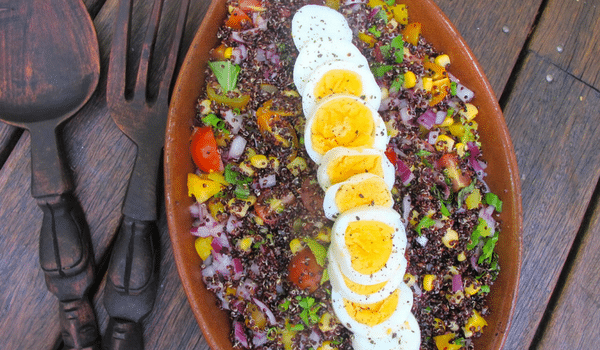 Serves: 4 | Prep time: 10 mins | Cook time: 10 mins

For those with allergies or intolerances this recipe is both gluten and dairy free
Ingredients
1 cup Quinoa

1 small yellow capsicum

3 eggs or feta cheese

1 punnet yellow cherry tomatoes, diced into quarters

1 punnet red cherry tomatoes, diced into quarters

½ Spanish onion, diced

3 shallots, chopped

Handful fresh coriander, chopped

125g can of corn kernels

Pepper to taste
Dressing:
Clove of garlic, crushed

½ lemon juice

4 tbsp Olive oil

½ tsp chilli powder

2 tsp dukkah

1 tbsp sesame oil
Method
1. Cook quinoa as per packet instruction.
2. Carefully place eggs into pot of water and bring to the boil. Allow to cook for 4-6 minutes, depending on how you like your eggs cooked.
3. Once quinoa is cooked, allow it to cool. Transfer to large salad bowl. Add herbs, veggies and pepper on top and mix together.
4. Once eggs are done, run under cool water. Peel off shell and slice up. Transfer egg to salad bowl.
5. To make the dressing, simply add all the ingredients into mixing cup and whisk together. Taste and add extra ingredients accordingly. Drizzle over  the egg salad and add salt and pepper to taste. 
Optional:
Replace boiled egg with feta, or crumble feta over the top of the salad in addition to the boiled eggs.

Add can of brown lentils to the salad.
—
For more healthy and delicious recipes, click here.