Potato Salad with Peas & Coriander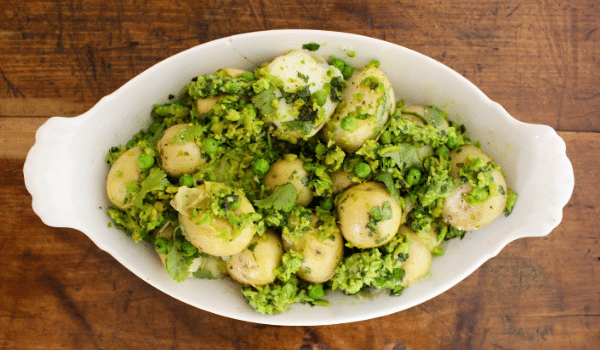 Serves: 6 | Prep time: 10 minutes | Cook time: 15 minutes
Ingredients
750g potatoes, sliced in half if large

300g peas

¾ bunch coriander, roughly chopped

60ml cup extra virgin olive oil

1 lemon

½ tsp lemon zest

Salt and pepper, to season
Methods
1. Place a saucepan filled with salted water on high heat. Once boiling, add potatoes and boil for 15 minutes, or until soft. Drain and set aside in a large bowl. 
2. Meanwhile, fill a small saucepan with plenty of water and place on a high heat. Bring to the boil, then add the peas and blanch for 1 minute. Drain and set aside. 
3. Place the potatoes in a serving dish and roughly crush ½ of the potatoes using the back of a wooden spoon and leave the remaining whole. 
4. Place 3/4 of the peas in the food processor with coriander, oil, juice of ½ lemon and lemon zest and salt and pepper. Blitz to a rough paste.
5. Add the peas – both the blitzed mixture and whole ones – to the potatoes and gently toss to combine. Drizzle remaining lemon juice and season with salt and pepper to serve.