Pineapple & Black Bean Cajun Chicken Wrap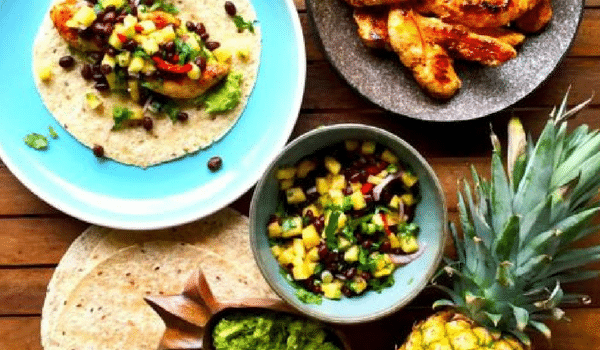 Serves: 4-6 | Prep time: 40 minutes | Cook time: 30 minutes
Ingredients
8-12 Chicken tenderloins (2 tenderloins per person)

4-6 wholegrain wraps (1 per person)
Cajun seasoning:
0.5 tsp cayenne pepper

0.5 tsp thyme

1 tsp paprika

2 cloves crushed garlic

2 tsp ground pepper

1 tbs olive oil
Pineapple & Blackbean Salsa:
1.5 cups of diced pineapple

1 cup of blackbeans (canned and rinsed)

3 shallots, chopped

1/2 red chilli, chopped

1/2 cup coriander, chopped

1 tbs red onion, chopped

1 lime, juiced

1 tsp olive oil

1 pinch sea salt
Method
1. Mix the Cajun seasoning ingredients in a large bowl. Add the chicken tenderloins, toss to coat, and allow to marinate covered in the fridge for at least 30 minutes.
2. In another large bowl, combine all salsa ingredients and mix. Set aside.
3. Lightly oil a large frying pan on medium high heat. Place the chicken tenderloins in the pan and cook for 3-5 minutes, or until cooked through (juices should run clear).
4. Assemble each wrap with 2 cooked chicken tenderloins and 2 tablespoons of the pineapple and black bean salsa.
—
For more healthy and delicious recipes, click here.