Pesto Zucchini Noodle & Edamame Salad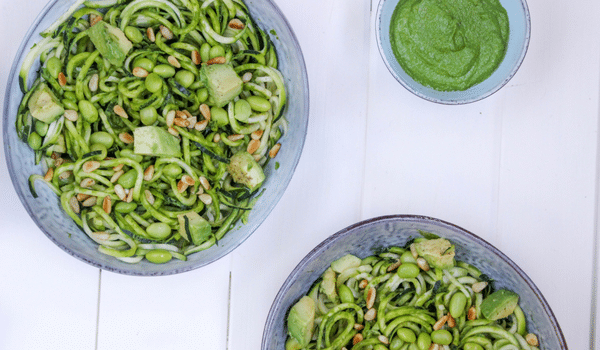 Ingredients
4 zucchinis
1 avocado, diced
½ cup edamame beans, shelled
1/4 cup pine nuts
Salt and pepper to season
Pesto sauce
2 tablespoons pine nuts, roasted
2 tablespoons parmesan cheese, grated
¼ cup olive oil
1 small lemon
1 cup kale, chopped
2 cups basil, chopped
1 clove garlic, chopped
pinch of salt
Method
To make the pesto sauce, combine all pesto sauce ingredients in a food processor and blitz until you get the desired consistency and flavour. Can add additional lemon, water or oil to change texture.
Using the Spiralizer, spiralize all the zucchinis.
If using frozen edamame beans, cook as per packet instructions.
Heat a fry pan on medium heat and add the pine nuts. Heat for 4 – 5 minutes until slightly browned (be careful not to burn).
In a bowl combine zucchini noodles, diced avocado, pine nuts and edamame beans. Mix the pesto sauce through the salad and season with salt and pepper. You may want to add an extra squeeze of lemon as well. Enjoy!
For some extra protein try mixing through a can of tuna or sprinkling some feta cheese!