One Pot Creamy Mushroom Pasta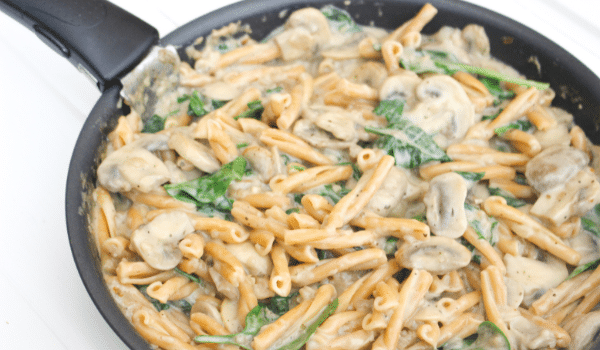 Serves: 4 | Prep time: 10 minutes | Cooking time: 20 minutes
Ingredients
250g uncooked pulse pasta (or any pasta)

3 tablespoons extra virgin olive oil

1 brown onion, finely chopped

500g sliced mushrooms, sliced

3 garlic cloves, crushed

2 teaspoons dried oregano

3 tablespoons plain flour

270ml canned light coconut milk

1 cup (250mL) salt reduced vegetable stock

1 teaspoon Dijon mustard

4 cups baby spinach (fresh or frozen)

Pepper, to season

Parmesan cheese, to serve (optional)
Method
Cook pasta according to the package instructions. 

Heat a drizzle of olive oil in a fry pan over medium heat. Add onion and fry for 2-3 minutes until softened.

Add the mushrooms, garlic and oregano and fry until the mushrooms are softened for 4-5 minutes. Add the flour and fry with the mushrooms for 1-2 minutes. 

Add the coconut milk and vegetable stock. Stir until combined and then keep stirring until it reaches a simmer. Allow to simmer for 3-4 minutes. Add dijon mustard, baby spinach, season with pepper and stir. 

Remove from heat and serve. Serve with a sprinkle of parmesan.