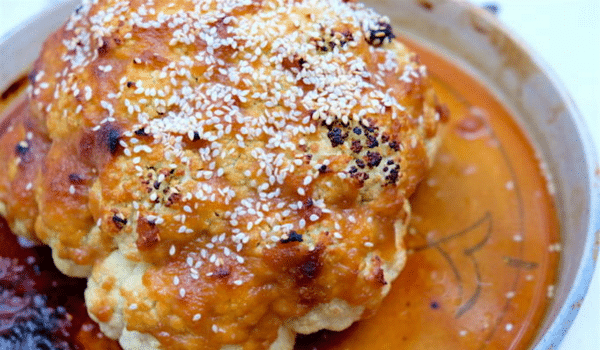 Serves 4-6 | Prep time: 10 minutes | Cook time: 35 minutes
Ingredients
1 whole Cauliflower
1 cup fortified wine (e.g. sherry or muscat)
1/4 cup shiro miso paste
1/4 cup maple syrup
2 tablespoons Extra Virgin Olive Oil
1 tablespoon fresh ginger, grated
2 cloves garlic, crushed
2 teaspoons sesame seeds
Methods
Preheat oven to 200ºC .

Cut a cross in base of cauliflower with a sharp knife. Place cauliflower in a large ovenproof dish. Poor fortified wine into the base of the dish. 

Combine miso, syrup, oil, ginger and garlic in a small bowl and pour over cauliflower. 

Cover the dish tightly with foil and bake for 20 minutes. After 20 minutes, remove from the oven and sprinkle sesame seeds over the cauliflower.

Return to the oven, uncovered, for a further 15 minutes or until cauliflower is tender.