Marinated Chicken Skewers, Hummus Yoghurt & Buckwheat Tabbouleh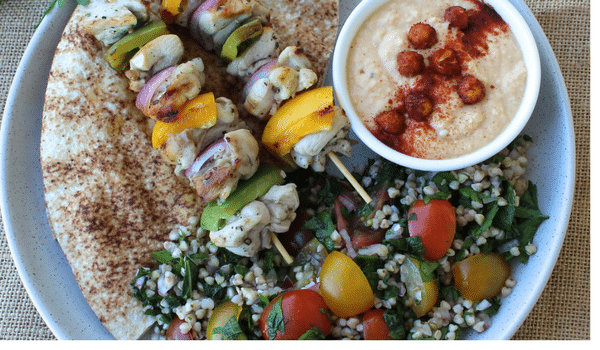 Serves: 2 | Prep time: 75 mins | Cook time: 30-45 mins
Ingredients
4 wooden skewers

1 wholemeal pita bread, halved
For the chicken skewers:
4 skinless chicken thighs, cubed

Juice of 1 lemon

2 tablespoons extra virgin olive oil

1 teaspoon dried mixed herbs

Half a red onion, cut in quarters

Pinch of salt & pepper

Half a yellow capsicum, cut in sixths

Half a red capsicum, cut in sixths
For the tabbouleh:
1/3 cup buckwheat, rinsed and drained

Large handful parsley, roughly chopped

Large handful mint, roughly chopped

Juice of 1 lemon

Large handful cherry tomatoes, halved

1 tablespoon extra virgin olive oil
For the hummus yoghurt:
1 tin chickpeas, rinsed and drained

2 tablespoons Greek yoghurt

Juice of 2 lemons

½ teaspoon paprika

Half a clove of garlic, crushed
Method
1.  In a large bowl, mix juice of 1 lemon, 2 tablespoons extra virgin olive oil, dried mixed herbs and a pinch of salt and pepper. Add chicken and coat evenly. Cover in plastic wrap and place in refrigerator to marinate for 1 hour.
2. Meanwhile, prepare the wooden skewers by soaking them in water for 15 minutes.
3. For the tabbouleh, add buckwheat and 2/3 cup water to a saucepan and simmer on low-medium heat for 20 minutes or until cooked. Drain and rinse. Once cooled, add parsley, mint, cherry tomatoes, juice of 1 lemon and 1 tablespoon of extra virgin olive oil and mix.
4. For the hummus, add chickpeas, yoghurt, juice of 2 lemons, paprika and garlic to a food processor and blitz until smooth. To add extra crunch, you can garnish the hummus with a small handful of chickpeas coated in paprika and roast for 20 minutes at 220 degrees.
5. Once the chicken has marinated, thread chicken, capsicum and onion onto the skewers. Heat a griddle pan over a medium-high heat and cook the skewers for 5 minutes a side or until the chicken is cooked through.
6. Serve chicken skewers immediately with hummus, tabbouleh and pita bread.
—
For more healthy and delicious recipes click here.