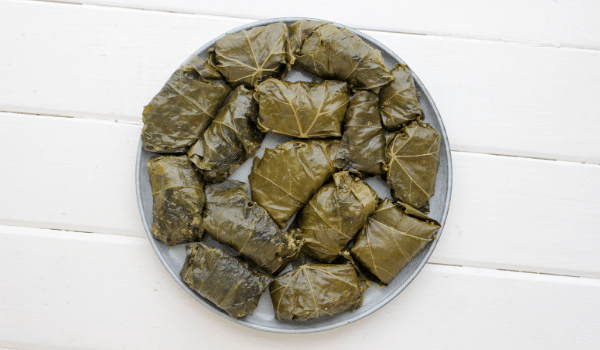 Ingredients
Extra virgin olive oil
1 onion, finely chopped
1 garlic clove, crushed
1 tablespoon pine nuts, roasted
1⁄4 bunch fresh parsley, finely chopped
1⁄4 bunch fresh mint, finely chopped
1 long green chilli, seeded, finely chopped
1⁄4 cup kalamata olives, pitted
1⁄2 teaspoon ground allspice
1⁄2 teaspoon ground cinnamon
1⁄2 cup quinoa, uncooked
20-30 vine leaves
1 lemon, juiced
500mL chicken stock, salt reduced
Method
1.Heat 1 tbsp of oil in a medium saucepan. Add onion, garlic and stir for 3 minutes. Add pine nuts, quinoa (uncooked), parsley, mint, chilli, olives, allspice and cinnamon and stir to combine. Cook for 3 to 4 minutes and remove from heat. Season with salt and pepper.
2. Spread vine leaves out flat on a clean bench top, smooth-side down, with the stems facing you. Place 1 tablespoon of mixture at the base of the leaves. Fold the sides in and roll up to enclose the filling. Don't roll too tightly as the quinoa needs room to expand when cooked. Repeat this process with the remaining leaves.
3. Line the base of a large saucepan with extra vine leaves (ideally use the torn ones). Place the dolmades in tightly together, so they don't unravel.
4. Pour stock and lemon juice over the vine leaves so that there is just enough to cover the vine leaves. Place a plate on top of the vine leaves in the pan (this helps to prevent the leaves from unravelling and helps to keep their shape).
5. Simmer for 30 minutes or until the quinoa is tender. Allow to cool and serve.