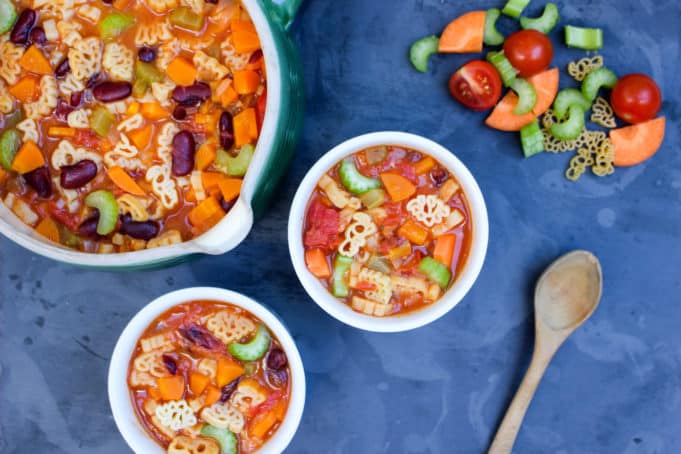 Serves: 4 – 8 | Prep time: 20 minutes | Cook time: 20 minutes
Ingredients
1 tablespoon extra virgin olive
1 brown onion, diced
1 leek, finely chopped
2 garlic cloves, crushed
2 carrots, peeled and diced
3 stalks Celery, diced
2 Potato peeled and diced
1L Vegetable stock, reduced salt
1 x 400g canned legume (e.g. cannellini beans, kidney beans, butter beans) 
1 x can dicd tomatoes (400g)
1 tbsp tomato paste
1 cup uncooked pasta (small shape)
1 bay leaf
1 tsp Oregano, dried
Salt and pepper (to season)
Method
Heat olive oil in a soup pot and add onion, leek, garlic.
Then add celery and carrots. Fry gently for 4 minutes.
Add potato and bay leaf and cook for another 5 minutes.
Add the stock, oregano, crushed tomatoes and tomato paste and bring to the boil.
Add pasta and kidney beans and cook for approximately 10 minutes, or until pasta is cooked. Add more boiling water to the pot if it needs more liquid.
To serve, season with salt and pepper and option to serve with wholegrain toast soldiers.