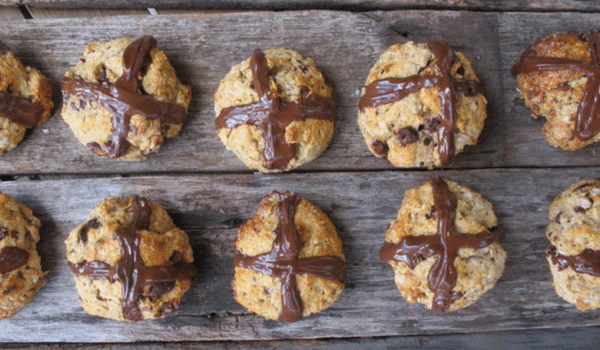 Serves 10 | Prep time: 15 minutes | Cooking time: 10-15 minutes
Ingredients
5-6 medijool dates, chopped finely
3 cups wholemeal flour
1 cup wholegrain oats
1 tsp salt
3 tsp baking powder
2 tsp ground cinnamon
2 eggs (keep 1 to glaze)
1/4 cup olive oil
2 tbsp honey
1 cup milk
1 tsp vanilla extract
100g dark chocolate
Method
1. Preheat the oven to 180°C.
2. In a bowl, combine flour, oats, salt, cinnamon, dates and baking powder and stir well.
3. Add in one egg, honey, vanilla extract, olive oil and 50g of dark chocolate (finely chopped). Stir well to combine.
4. Slowly add in the milk, to ensure the mix forms a sticky dough texture.
5. Roll handfuls of the mixture into balls and placed on a baking tray, lined with baking powder
6. Whisk the second egg in a bowl and using a pastry brush, glaze the top of each bun.
7. Place in the oven and allow to cook for 10-15 minutes (or until golden).
8. Melt the remaining chocolate and form crosses on each bun (be careful not to go overboard on the chocolate as it is quite easy to do! ☺).
—
For more healthy and delicious treats, click here.