10 Minute Hawaiian Poke Bowl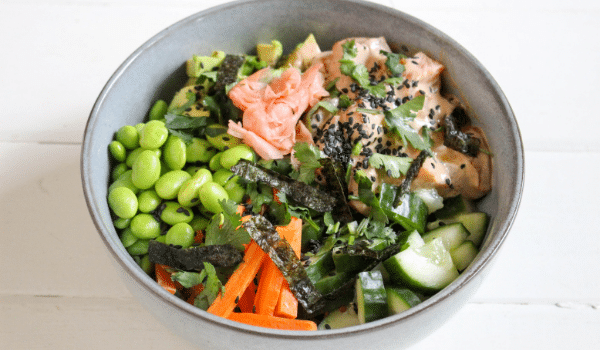 Serves: 2 | Prep time: 10 minutes
Ingredients
200g fresh salmon sashimi, diced
1-2 tbsps whole egg mayonaise
1 tbsp sriracha
1 tbsp sesame oil
1 tsp fish sauce
1-2 tbsp soy sauce, salt reduced
½ lime, juiced
1 tsp sesame seeds
¼ cup uncooked quinoa
1 carrot, chopped into matchsticks
½ cup edamame beans
½ avocado, diced
½ medium cucumber, diced
1 handful of coriander leaves, roughly chopped
½ nori sheet, shredded
Pickled ginger, to serve
Lime wedges, to serve
Methods
1. Combine sashimi in a small bowl with mayonnaise, Sriracha, sesame oil, fish sauce, soy sauce, lime, sesame seeds and cracked pepper. Mix together gently and transfer to fridge to marinate, while you prepare the other ingredients. 
2. Cook quinoa according to packet instructions.
2. Cook edamame beans according to packet instructions and chop up all of the vegetables. 
3. To make your poke bowls, distribute the quinoa between bowls. Then arrange carrots, edamame beans, avocado and cucumber on top of the quinoa. Divide the salmon between bowl.
4. To serve, top wth fresh coriander, nori, pickled ginger and a squeeze of lime!
Notes:
Poke bowls are a really healthy option and a great way to get a nutritionally balanced meal. 
We recently spoke to Mamma Mia about why Poke Bowls are so healthy, click here to find out!
To mix it up substitute quinoa for brown rice or soba noodles.
For a vegetarian option, substitute the salmon for tofu.
Click here for more deliciously, healthy dinner ideas.