Nutrient Loaded Green Shakshuka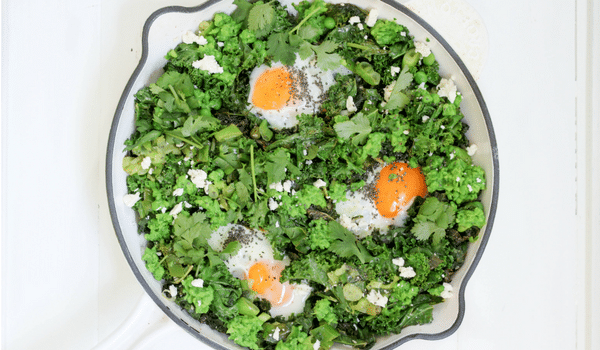 Serves: 2-3 | Prep time: 10 minutes | Cooking time: 15 minutes
Ingredients
Extra virgin olive oil
1 leek, chopped
3 shallots, chopped
2 cloves garlic, crushed
1 teaspoon cumin, ground
1 teaspoon coriander, ground
1 teaspoon fennel seeds
1 bunch kale, stems removed, finely chopped
1 lemon, juiced
1 cup frozen peas
100g baby spinach
3 or 4 eggs
40g feta cheese
Fresh coriander, chopped
1 tablespoon chia seeds
Chilli flakes (optional)
Salt and pepper, to serve
Method
Heat extra virgin olive oil in a pan over medium heat. Add leek, shallots, garlic, cumin, ground coriander and fennel seeds and cook for 2 to 3 minutes.
Add the kale to the pan (you may need to add a little more oil) and add half of the lemon juice. Stir while the kale wilts.
Meanwhile, leave frozen peas in a bowl of boiling water to defrost.
Add the baby spinach to the pan, season with salt and pepper, squeeze some of the remaining lemon juice, then stir and cook for a further 4 to 5 minutes. Be careful not to burn the kale.
Using a spoon, make small holes in the mixture to crack the eggs. Then crack the eggs into the pan and leave to cook for 2 to 3 minutes. Pop a lid on to steam the tops of the eggs.
While that is cooking, blitz peas in a food processor for 10 seconds (so they are partly crushed). You could also use a fork.
Take pan away from heat and season with salt and pepper. Crumble with feta and add fresh chopped coriander. Sprinkle some chia seeds over the eggs and vegetables.
Serve straight away with wholegrain toast. You may like to add a squeeze of fresh lemon.