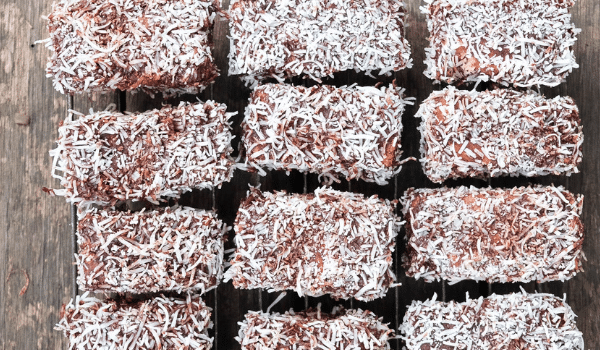 Makes: ~15-20 lamingtons | Prep time: 15 minutes | Cook time: 40 minutes
Ingredients
1/3 cup caster sugar
120g unsalted butter
2 eggs
½ cup reduce-fat milk
1 teaspoon vanilla extract
1 ½ cups wholemeal self raising flour
200g dark cooking chocolate
¾ cup water
2 ½ cups desiccated coconut
Method
1. Preheat oven to 180°celsius.
2. Using extra virgin olive oil spray, lightly grease a square cake tin and line with baking paper.
3. Combine sugar and butter together until light and fluffy. Gradually add eggs and vanilla extract and beat well.
4. Gently stir in milk and flour. Pour into tin and cook for approximately 40 minutes or until golden.
5. After cooling on a wire rack, cut the cake into roughly 15-20 squares.
6. To make the icing, melt the chocolate and stir in water. Then spread the mixture over each square and roll in coconut. Place on a tray to set and serve.