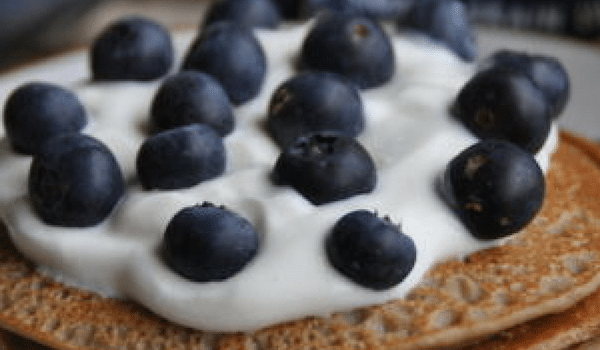 Serves: 2 | Prep time: 5 mins | Cook time: 10-15 mins
Ingredients
1 egg
1 cup low­fat milk
1⁄2 tsp cinnamon, ground
1 cup Teff flour
1⁄2 tsp vanilla essence
Pinch of sea salt
2 tbsp Extra Virgin olive oil
Blueberries, to serve
Greek Yoghurt, to serve
Method
1. Place egg, vanilla essence and milk in a bowl and whisk lightly. Slowly whisk in the flour, cinnamon and a pinch of sea salt (optional: add 1/2 cup of blueberries in at this step for blueberry flavoured pancakes). Leave mixture to rest for 30 minutes. Strain off any lumps.
2. Heat oil over medium heat. Add enough batter to cover base of pan. Cook pancakes for a 2­-3 minutes on either side, until golden brown.
3. Serve up with Greek yoghurt and fresh blueberries and enjoy!
—
Check out more of our delicious breakfast recipes here!